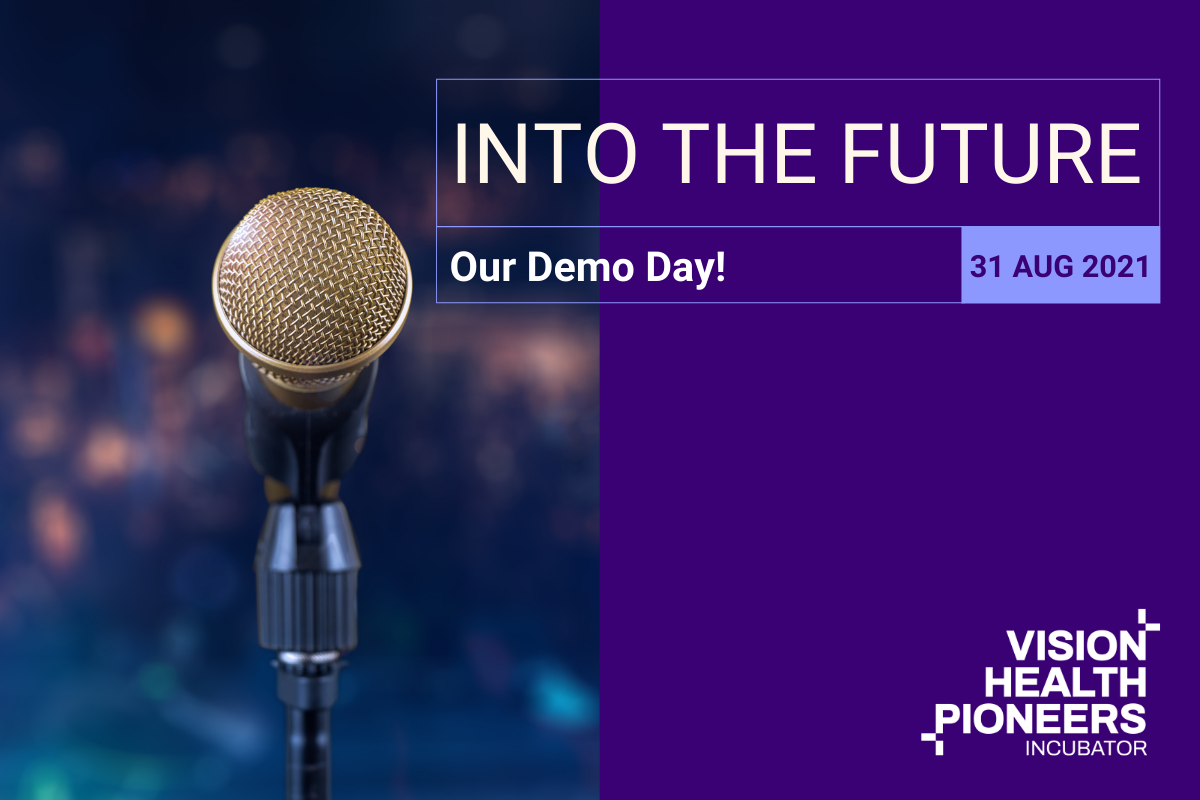 18 Aug

INTO THE FUTURE – Demo Day 2021 – Save The Date

On 31st August 2021 our six startups will showcase their businesses at our next Demo Day – INTO THE FUTURE. But this isn't just any normal event. This is inspiration. A demonstration of what can be achieved when a young mind is trusted to take something all the way to the finishing line. It has been a thrilling journey. Guided with expertises and insights from our trusted valuable coaches and mentors, supported by our wide-range of partners and nurtured within the Vision Health Pioneers Incubator, the startups have grown into. very. exciting. companies.

INTO THE FUTURE is the chance for an array of innovative startups in Berlin to present their business both to an online and hopefully in-the-room physical audience – depending on Covid-19 restrictions at the time. For all that attend, in whatever capacity is best, they will take away the stories of six exciting startups and also hear original thinking from a fascinating keynote speaker. Follow us across social media or sign-up to our newsletter here, to be among the first to find out who. 

Here is also our dedicated LinkedIn Event page where we'll be updating you on the latest news for the event.
What is – INTO THE FUTURE – Demo Day 2021?
The Vision Health Pioneers Incubator Demo Day is a celebration and showcase of what can be achieved within an Startup incubation period. Where a group of young minds can build something special, often unique and always important. Entrepreneurs who improve not only healthcare in Germany but healthcare in Europe and beyond. That is the vision for so many of the fascinating startups in the Vision Health Pioneers Incubator.
Innovation in the healthcare sector is essential, new ideas must be brought in which can improve the current structure and systems. INTO THE FUTURE is the chance to discover some of the latest thinking of healthcare innovation in Europe. For those who invest in German healthcare or indeed who invest in European healthcare, this is an opportunity to interact with the pitchers and if of interest, hold one-on-one meetings with them and hold private conversations. If you are an investor and want to know more about the Demo Day and startup investment opportunities in German, please reach out to us.
Dr Daniel Kraft – Keynote and Nicole Scott – Moderator 

Dr Daniel Kraft M.D., leader in the future of health, medicine and technology, is our Keynote Speaker! The Faculty Chair for Medicine, Singularity University and Founder and Chair, Exponential Medicine has previously given four fascinating TED Talks. We are over the moon to have the Stanford and Harvard-trained physician-scientist, inventor, entrepreneur, and innovator speak at our event and take time away from the XPRIZE Pandemic Alliance Task Force where he serves as Chair. 
The Demo Day will be moderated by the cutting-edge video journalist and idea engine Nicole Scott! Nicole has been a leader in the tech world since the Blackberry was top dog and her first smartphone review happened years before we had even heard of an iPhone.
Who is pitching at INTO THE FUTURE – the Vision Health Pioneers Incubator Demo Day 2021?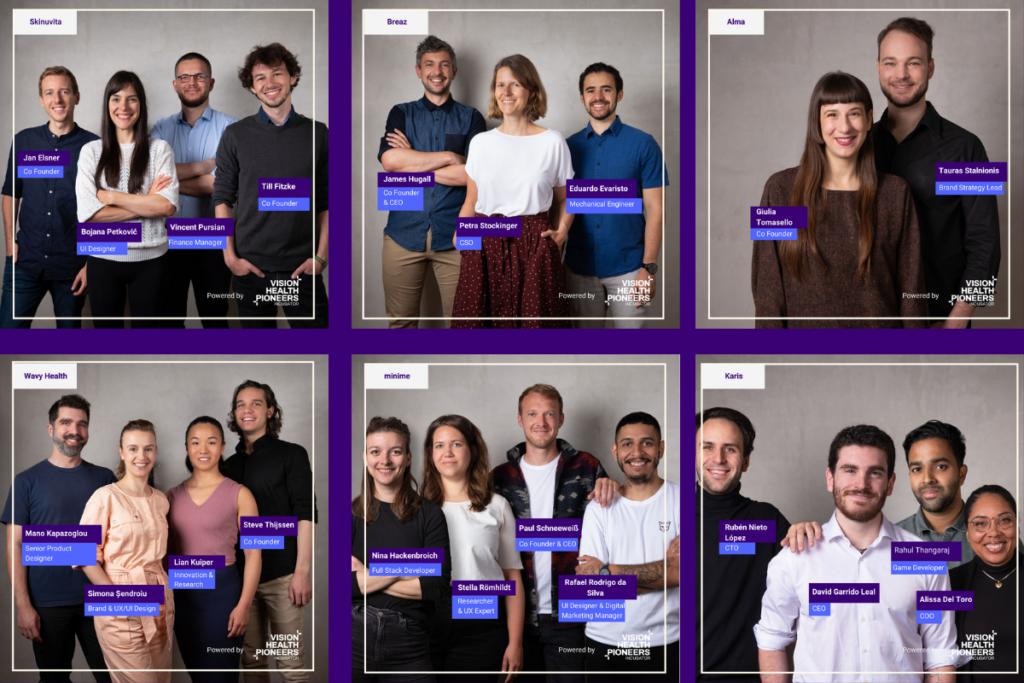 Skinuvita – Making UV-therapy more accessible to patients with chronic skin diseases through e-health technologies for a safe and efficient home treatment.
Breaz – Detecting breathing diseases early to avoid the devastating consequences of late diagnosis. A solution for use within a primary care setting to detect and monitor COPD.
Alma – Wants to revolutionise how female intimate health is tackled in society through innovative products that combine technology with education. Discover more about Alma and where education and technology intersect in our blog here.
Wavy Health – A deep tech medical device app that helps heart patients to manage their symptoms and lower their stress. Explore in our blog, how dulcet innovations like Wavy are the future of cardiology care.
Minime – Unlocks an enormous potential in CBT by bringing flexibility to self-monitoring logs and psycho-education while digitally documenting the whole therapy process.
Karis – Aim to integrate arts, science and emerging technologies into a unique treatment option for people with ADHD. Hear from the founders in our blog on why they believe this is an overlooked mental health condition.
Hear from all these exciting companies at our Demo Day INTO THE FUTURE on 31.08.2021 in Berlin, Germany..
Register for your free ticket on Eventbrite here, so you don't miss out on the latest thinking and innovation in healthcare.
We look forward to welcoming you!