26 Nov

Vision Health Pioneers Incubator On Tour!

We have recently returned to Berlin after a whirlwind adventure which took us to five different cities in Europe! Vision Health Pioneers Incubator on tour: our team and some of our alumni startups attended, presented and engaged with some of the best and brightest at leading healthcare events. Here's a quick summary:

Towards the end of October we were at deGUT. We were very excited to co-host the Startup Arena and organised the showcase of startups from the Berlin Startup Scholarship and also from Brandenburg. This German founders fair has up to 3,000 guests per day and is the largest trade fair for business startups and entrepreneurs in Germany. One of the teams who joined us were minime. Paul Schneeweiß, Founder, shares thoughts on their experience at deGUT:
"deGut was a very exciting event. Interested people kept coming to our booth. I explained our idea again and again in the form of mini-pitches, without knowing which role each person had (user, investor, just interested). It was only through the individual reactions that I noticed what people really understood about our story and what they didn't. This was very helpful to polish our pitch for upcoming investor rounds. In addition, it was great to meet remote contacts in real life, such as those from the IBB and the Businessangelclub Berlin Brandenburg."
Paul Schneeweiß, Founder & Therapist, minime
In early November you could find some of our team in the blossoming ecosystem of Valencia where we joined leading investors, startups and companies at South Summit Valencia. The Mediterranean city is becoming an innovation hub with its fast-paced growth, high number of startups and solid health industry network. We also hopped over to Barcelona for some more networking with startups interested in joining our program.
"At South Summit Valencia we enjoyed many inspiring sessions, from investing in holistic health to medical regulatory to how to better frame the use of Ai. It was great to meet with the digital health community in Valencia and Barcelona."
Vision Health Pioneers Incubator on tour!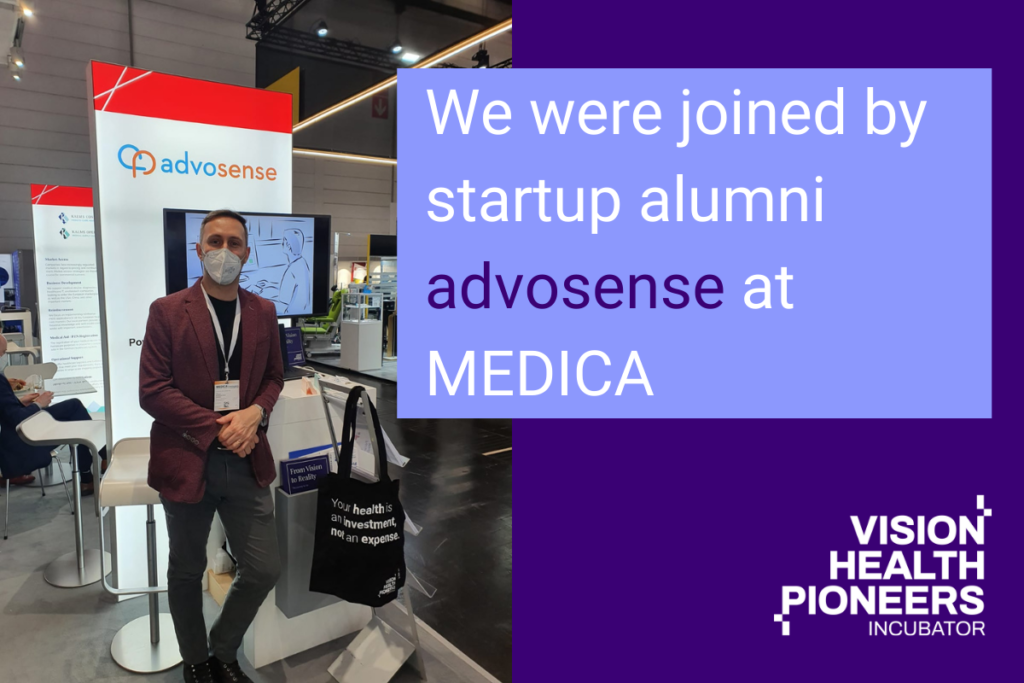 In the middle of November, we were in Düsseldorf at MEDICA, the place where the whole world of medicine meets! Running for over 40 years, this is the largest event for the medical industry worldwide. We were delighted to be joined with alumni startup advosense and Breaz at the show. James Hugall, Co-Founder of Breaz shares their thoughts on MEDICA:
"MEDICA was a fantastic networking opportunity for us to explore new technologies and suppliers, scope out the competition and introduce our startup to the MedTech world. It was exciting to be face-to-face again with like-minded individuals at such a large international meeting with thousands of exhibitors. It far exceeded our expectations, with thanks to the Berlin Senate and Vision Health Pioneers Incubator for giving us such a great platform."
James Hugall, Co-Founder, Breaz
It was wonderful to meet with others again in-person and spread the word about our Berlin startup incubator. If you or if you know of someone who is interested in finding out more about our program, please do join us for our next Ask Me Anything session on 7th December 2021. This online event begins at 17:00 CET and is ideal for those interested in joining our Batch#4 and Batch#5 cohorts. Whether you would prefer to begin your journey in April 2022 or July 2022, you can complete your application right now.