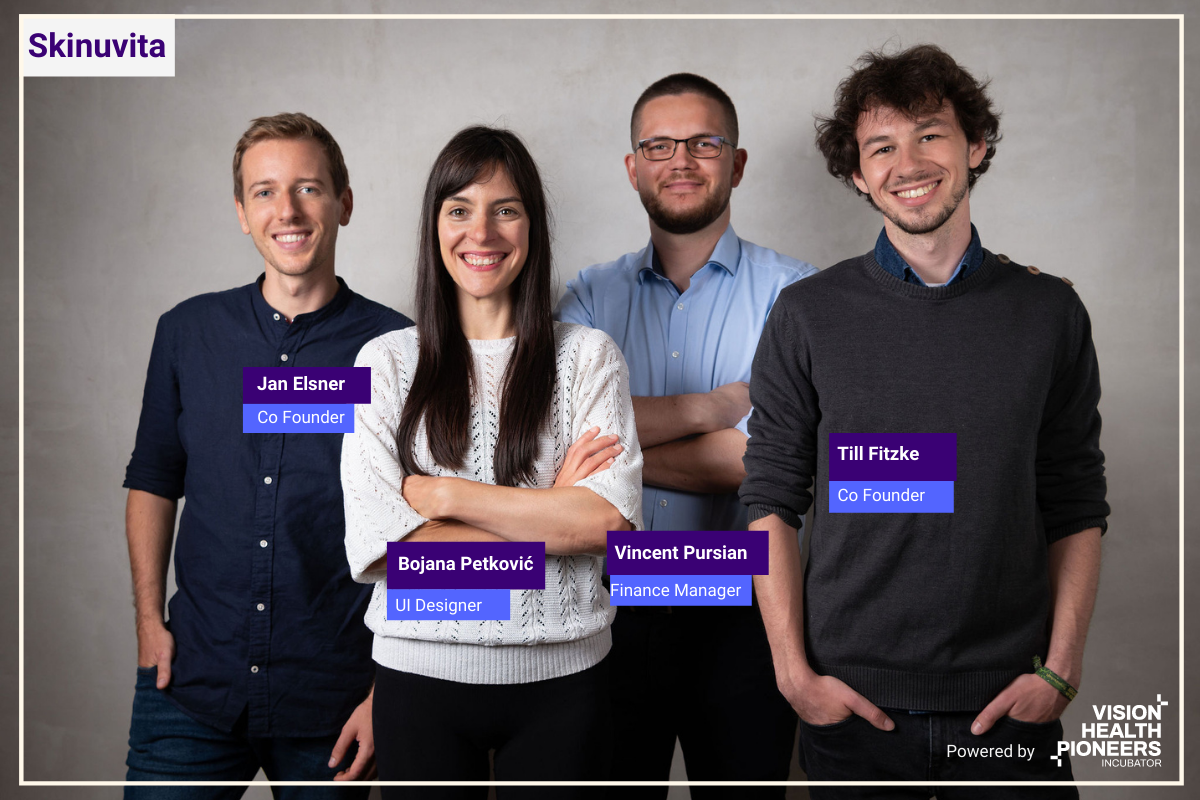 10 Aug

Making Home UV-Therapy As Normal As Brushing Your Teeth – Skinuvita
If you saw a problem every time you received treatment, would you decide to make it your purpose to solve it? Not many people would. But Jan Elsner isn't many people. Skinuvita – making home UV-Therapy possible.
When you find out more about Skinuvita and how they are making UV-therapy more accessible, you soon discover what lies at the heart of the startup. There is a vision, yes, but also an inspiration weaved into the business and those who work within it. It's the real feeling of knowing what it's like to live with a chronic skin disease and that the effective medical treatments available are actually not so easily applied.
Jan Elsner, who Co-Founded Skinuvita, has the chronic skin disease Psoriasis and had for a long-time seen numerous therapists and tried different treatments until he eventually found that UV therapy was the best for him. However he encountered a problem. He was recommended 30 individual sessions, the average for a successful treatment cycle, but to receive these, he needed to visit the dermatologist every single time. Time is the most precious thing and this treatment process takes it away. Plus the travel involved in going to and from the doctors. That's why home UV-Therapy is so important.
Therefore UV therapy, in its current setup, is just not applicable for most patients of chronic skin diseases. But the solution from Skinuvita is. Jan decided to improve the situation for himself and all others in similar positions. To create a digitalised therapy which allows patients to use a safe and medically supervised UV-therapy at home. It began as a student project at Bremen University and those around were quick to see the advantages it brought to the healthcare ecosystem.
Jan explains how things began to really take off. "We had input from dermatologists in Bremen, public health experts and insurance companies. They were all keen to support. Then in 2019 with the Digital Health Act, the market changed and digital health became far more relevant."
Even the global pandemic didn't seem to hugely impact the startup being formed. "We decided to leave the comfortable bubble of academia and actually found more courage to write proposals for funding. It was during this process that we were invited to pitch at the Professional Association of the German Dermatologists (BVDD) in Berlin and then by surprise became the wildcard entry for the Vision Health Pioneers Incubator."
Jan shares how joining the Vision Health Pioneers Incubator has helped their dream of making home UV-Therapy possible. "We went from an evening and weekend project to, on short notice, having the luxury to build a team." It was this process where fate played a role.
A Team of Coincidence
Jan reached out to now Skinuvita Co-Founder Till Fitzke, but it nearly didn't work out that way. Till shares how he became involved. "I knew Jan from before. He contacted me but I was super sick with tonsillitis. After five days I called him back just before he pressed send on an email accepting someone else for the role! It was such a unique opportunity that I quit my then job. I felt I wouldn't get another chance at something like this."
This wasn't the last of happy coincidences for the Skinuvita team. For Bojana Petkovic, UI Designer, she was finishing her studies in Digital Media when a flatmate recommended the startup. "They said that Skinuvita were looking for support in their design work. I had a promising future in my job at the time but it wasn't so interesting. I relate more to this kind of work – where we can create things from scratch. Rather than being a tiny screw in a larger organisation." Bojana is focusing on marketing design and visual identity, having also recently been awarded the 'Best Design Art' award for her master thesis.
As the Skinuvita team speaks it is clear they have a well-balanced approach to startup life and embrace the journey they are on. Till likens the combined passion as to that of doing something in your life that helps other people. "We all have that in common. It is worth a lot." he says.
The startup team has naturally changed a little since they entered the Vision Health Pioneers Incubator in January 2021. Jan shares more,
"Not everyone is born to work in a startup with all its uncertainties and challenges. We had a great colleague, Nadine, who did a fantastic job but had to make a change in her career direction. We are very thankful for her efforts. We used this chance to explore a fourth member of the team." It was by chance that Till received a message from a friend.
"It was another funny coincidence. Vincent Pursian, who is now our Finance Manager, messaged me. We knew each other from school and he had just found out that his job at the time wasn't continuing. He was in!"
Vincent is making sure they are ready for investment. "Till came back to me with that question about a change in my life and so I accepted. We have been planning for a substantial investment since then and are confident with what we can achieve. There are already ongoing conversations with various interested business angels and VCs."
A Philosophy of Positive Impact
Jan explains how they enjoy the positive impact they have. "Like Bojana said, none of us want to be a small screw in the system. Startups are risky and they need a profitable business outlook to attract investors. We all relished the fact that we get more fulfilment from shaping things." Bojana adds more, "We really discovered that in a team workshop together. After three exciting days with barbeque, creative sessions and simple things like playing frisbee in the lake, we got to know one another. That was really important to help us bond."
"The small moments like when you discover a puzzle piece you didn't know was missing. Suddenly everything gets better." – Is how Jan describes how it energized them.
The Skinuvita Home UV-Therapy Product
The future looks very promising for Skinuvita. For example a recent meeting with an influential Head of a Dermatology Department took place and this might lead to advanced clinical tests. They aim to have a virtual treatment therapy device tested under medical supervision and overcome some of the typical barriers of certification. Following this, the next step is to take their product to the business sector.
Till explains more about their product. "We're in different beta phases. On one side is a therapy manager for nurses and doctors to plan and set sessions for treatment. On the other, a patient app where they receive session information – things like when and how long a treatment is. We were also recently able to integrate a bluetooth control unit which allows our software to connect with existing therapy devices, enabling an automatic dosis transfer. Therefore there is no longer the risk that patients could be harmed by setting a wrong dosis. Now we have to design it, connect it, make it look nice and certify it."
Jan describes how the Vision Health Pioneers Incubator has helped their mission of home UV-therapy.
"It's hard to imagine how we would have created our startup without the support.
It's like gaining knowledge from ten years of industry experience within just nine months
. There's just so many new things to consider when you're not an expert. This is exactly the right programme for young people and young ideas."
They have big dreams for home UV-Therapy at Skinuvita. They don't just want to be considered an app which is turned on and off. Their international team has contacts in the Netherlands, Scandinavia and of course across Germany. Jan explains, "We are creating quality of life for those with chronic skin diseases. The more rural the area, the more relevant a home treatment. We now have a well established treatment and will use technology to make it safe, accessible and to guide people. To give them a normal life. We want UV-therapy to be as normal as brushing your teeth."
Catch Skinuvita presenting at INTO THE FUTURE – the next Demo Day from Vision Health Pioneers Incubator on 31 August 2021.