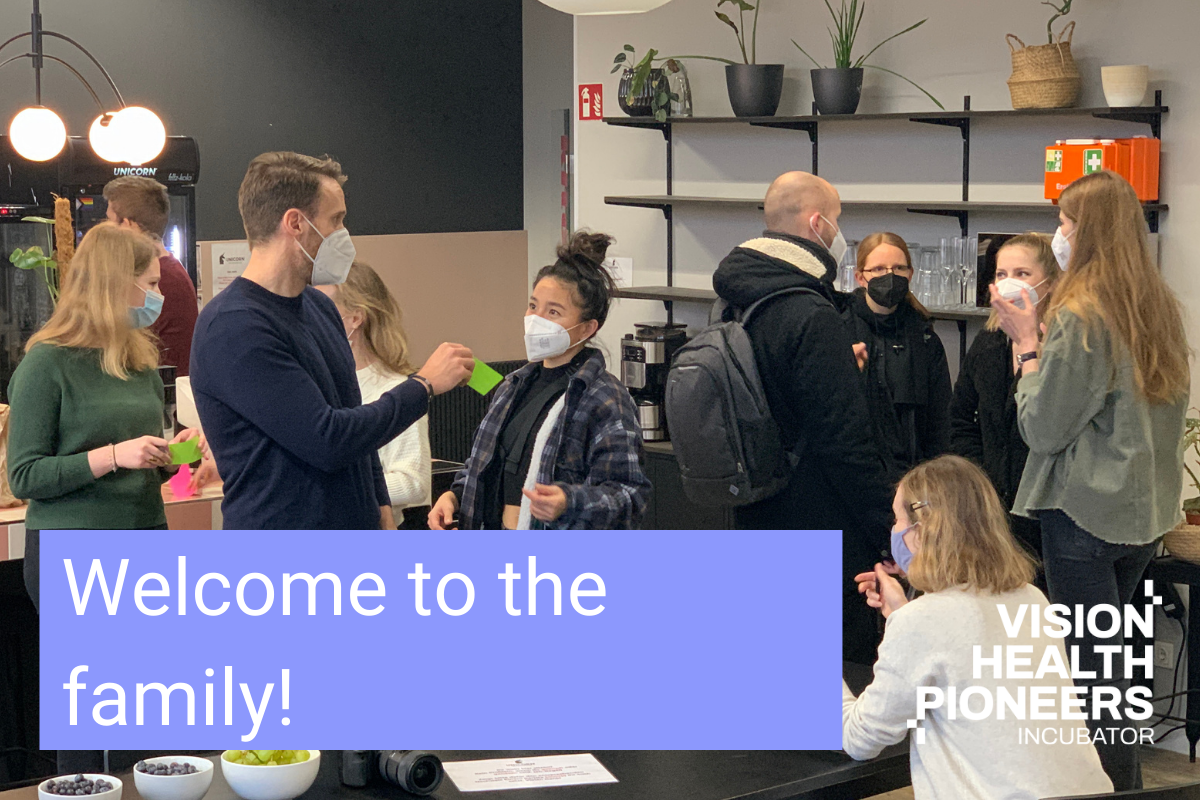 24 Jan

Welcome to the family! Our third cohort

We welcome our third cohort to the family! In January 2022 we welcomed the third cohort into the Vision Health Pioneers Incubator. After a few months exploring many exciting early-stage startups, our team and jury reviewed all the applications we received and five startup teams were chosen. As the New Year began, their new journey started in our new coworking space and for 10 months they will receive coaching, mentoring and overall support from experts in the world of healthcare.

We are delighted to present the startups who have joined us in January 2022.
Welcome to the family to our third cohort!
aidable
"Support for the supporters: tool for relatives of eating disorder sufferers"
aidable focus on supporting family members of those suffering from eating disorders, in particular in the therapy aftercare where they want to reduce relapse rates. With their tool they want to act as a guide and as a source of information that enables the best possible support for the road to recovery.
Askalois
"Empowering carers to support their loved ones with dementia at home"
Askalois is a platform that provides a personalised plan and ongoing support to empower first-time carers to support their loved ones. With 200,000 new diagnoses of dementia in Germany every year, they aim to tailor their solution to both location and situation.
NeuriTec
"We are building the pacemaker of the brain"
NeuriTec aims to enhance the outcome of stroke patients and support their rehabilitation. With an AI based, closed-loop brain-computer interface they want to prevent the full impact of neurological deficits after a stroke and increase recovery outcomes.
Physikit
"Enabling at-home (blood) testing as a service for eHealth"
Physikit is the missing puzzle piece between the digital space of eHealth and the physical world of medicine. With its plug-and-play solution, Physikit enables at-home blood collection and subsequent blood analysis for any eHealth service on the market. Services of Physikit include lab search and coordination, selection of the best test kits, orchestrating logistics and integration with lab IT systems. The eHealth developers only have to integrate the Physikit API, and can immediately provide their users with convenient at-home blood collection for monitoring of key health parameters.
Seeme
"The first computer vision indicator for mental health in children"
SeeMe is an AI driven service that monitors the health of patients. We provide an additional layer of information to doctors and patients derived from facial analysis (valence, intensity, engagement, attention, variety of emotions, and heart rate) during video assessment. SeeMe makes sure the patient gets the best after-diagnosis care by offering automatized check-ups that monitor any changes in their behavior. Especially helpful with chronic patients, seniors, and pregnant women.
We look forward to sharing more details soon and can't wait for you to meet them. They will be joined in April 2022 by our fourth cohort and then our fifth and last cohort for 2022-2023 in July this year. Applications are still open to join us in July – apply by 15th April 2022.