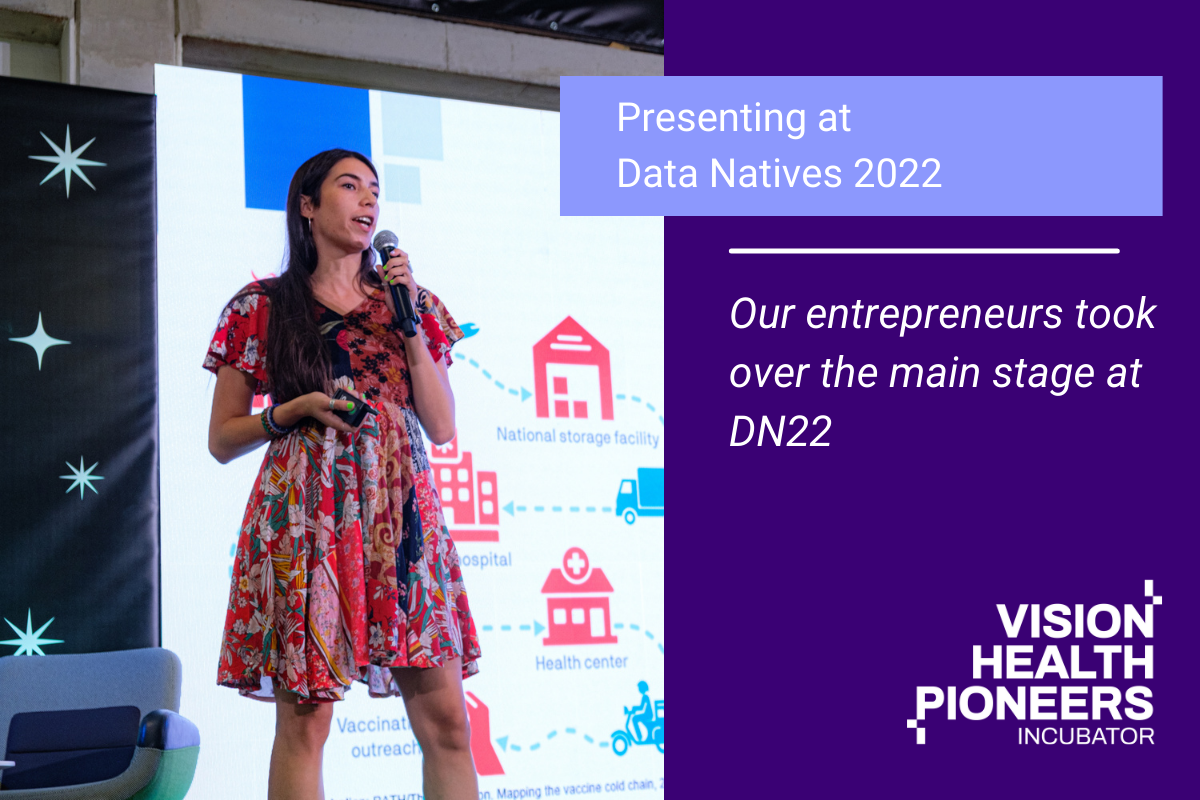 14 Sep

Taking over the main stage at Data Natives 2022!

The entrepreneurs in the Vision Health Pioneers Incubator recently took over the main stage at Data Natives! At the largest data science and AI event in Europe, the scholars stepped into the limelight and presented their startup solutions and shared insights into important healthcare topics. Kai Berner, Co-Founder of Noah Therapies, Natalia Mejia Pardo, Head of Research at SeeMe and also it's Founder Lujza Bubanova all separately presented or discussed in panels in front of the 1500 guests who in total attended the conference at Kühlhaus Berlin. Equally it was great to see one of our coaches, Johannes Starlinger and also mentor, Vince Madai present at Data Natives.

Following the three-day conference, we caught up with Natalia and Kai who shared their experiences. Natalia Mejia Pardo begins with her overall thoughts, "I enjoyed being part of Data Natives! I really liked the variety of topics and learning from inspiring speakers, especially women. My favorite stage was 'Future Society', where I learned about inclusion and diversity in the tech world, future civilizations, and taboo data! It was an amazing experience!"

For Kai Berner, he shares, "It's great that there is an audience interested in new approaches that combine data science and medicine, since this is so powerful and can lead to the changes the medical system desperately needs. I felt there was a good atmosphere and it was also different from medical conferences. In a way, more modern, more innovative and shows somehow (although we might be the pioneers) that there will be change in a system that is struggling."

Kai, who presented his startup Noah Therapies, explains why this is so important. "Care today has become a care that is disease centered, beginning 300 years ago when humans started to dissect and reduce the human body into its smallest parts has led to the way we do medicine today –  precision medicine; but patients and doctors long for holistic care. We need to find a way to make patient-centered care, holistic care that is possible, scalable and applicable for everyone; the CLHS (Collaborative learning health systems)  is our way to do it and to provide evidence for it"

The potential use of blockchain was discussed in detail at Data Natives but Natalia specifically looked at the important role it can play in the health sector, and the room was clearly impressed in how the technology can improve the supply chain of vaccines and medicines. Natalia describes in more detail, "The pandemic has shown there is a need for a transparent and trustworthy supply chain of vaccines and has revealed the current system's flaws. Hence, it is important to explore tools that could strengthen this supply chain, for instance, blockchain could contribute to solving or reducing the corruption problems that exist in the supply chain of medicaments and vaccines. However, there are implementation challenges and so far only early-stage pilots prove the benefits of this technology in the health sector, so it is important to continue researching and investing in this topic to create sustainable and scalable blockchain projects."

Check out more about the report Natalia wrote together with Mariana Saldarriaga, enpact and U4 anti-corruption center, here.

To find out more about Noah Therapies, reach out to their via their Notion page or their Community page. "We know this is something new with the potential to change a lot for many, we like to get feedback, help, advice and make allies on the way." – Kai Berner.

Catch both Noah Therapies and SeeMe pitching at Demo Day 2022 on October 19,2022 – tickets here.