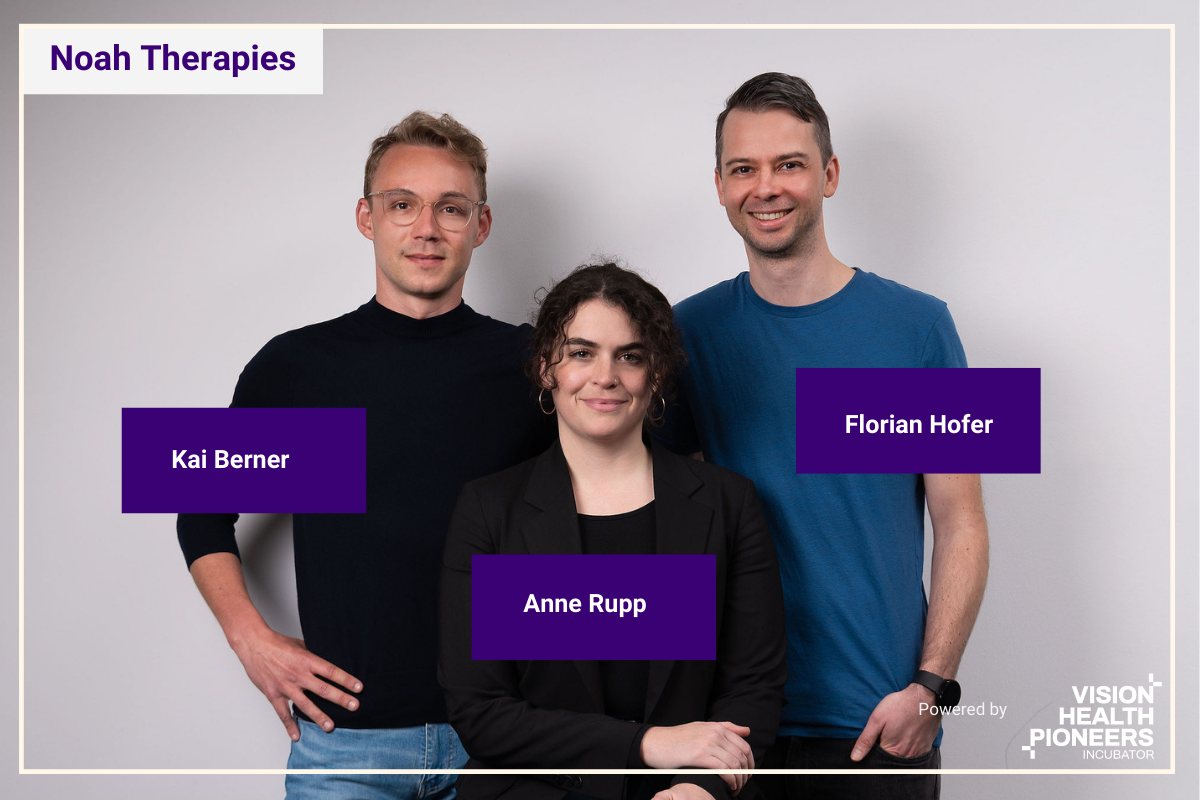 06 Jul

Noah Therapies – Guiding cancer patients with a personalized and holistic companion

Noah Therapies has developed from witnessing a real problem in the management system for those suffering from cancer. Its three co-founders have all taken different paths to realize their startup today, but each brings a different skill set needed for any successful team. Together they hold a strong combined intention for Noah Therapies – they are building a holistic therapy app that acts as a daily companion and guides cancer patients through their therapy journey. 

Co-Founder Dr. Kai Berner, who previously planned precision medicine cancer therapies and worked as a researcher in molecular oncology, outlines this in more detail. "The companion app provides administrative support and holistic guidance. We combine precision medicine, where cancer therapies are targeted on a very individualized level, with an integrative approach, so also exercise, nutrition and everything that has evidence in the field that boosts quality of life." In essence their powerful tool will guide patients from day 1 till the end of their cancer therapy on a very personalized level.
The journey of Noah Therapies so far 
"Our journey so far includes the development of our first prototype and testing with two clinics. We want to add 8 more partner clinics by the end of the year. " Anne Rupp shares and it's clear her experience in Marketing & Communication is essential as they build a community of patients and experts to help form the product. Anne was previously Field Marketing Manager and an early employee of Malt, one of the french Next40 Scale-ups. She continues, "We are reaching out to clinics, patients and medical integrative experts and working on the MVP together. We are bringing together various expert voices and exploring pain points and how we can improve the product." 
Florian Hofer brings to the team more than 10 years of experience as a Software Developer and Tech Lead. He shares the steps they will make with their first prototypes, "With our prototype we will collect and gather data from our patients in regards to their side effects and symptoms but also their medications and therapy path. We will use our app data together with other data sources to build a data model that will optimize our product and a patient's therapy journey in the future." Kai adds to this, "The data  simulation model helps us to provide a picture of the whole system and provide real world evidence on cancer journeys . This will not only allow us to find the best way to approach our companion in the future but also make an interesting business case for research and development."
Inspired by first-hand experience 
Kai's medical background and first-hand experience inspired Noah Therapies. He worked as a medical doctor for five years at the department of gynecology and obstetrics at the University Clinic of Freiburg. He describes what problems he encountered, "With the advancements in precision medicine, cancer therapies are extremely individualized today. This is great because it increases the survival rates of patients but equally they are very demanding. From an admin perspective it is a nightmare for doctors and patients. You see 100 patients in a week and at times feel like a secretary. There is never enough time for your patients so a lot of the responsibility ends up on the patient's shoulders. They weren't living their lives, they were just managing therapy." It was this realization that led Kai to study Integrative Health at the National Center of Integrative Medicine in Bristol. "This included how patients could maintain a good quality of life and heal besides just being cured. I realized that nobody was combining the two on a truly personalized level, to bring together the specialized medical part with the complementary oncology part. Even though there is a rising demand for integrative approaches and first steps into that direction, to really make it an integral part of cancer therapies we are lacking the time and the resources to combine this knowledge in a meaningful way. From these experiences Kai decided to get out of the clinic and into the startup world together with his Co-Founders Anne and Florian.
Growing in the incubator 
The three of them are supportive of Vision Health Pioneers Incubator which they joined in April 2022 as part of the fourth cohort. Anne shares, "It's been a great opportunity to get in touch with people. We have had time as a team to find ourselves and the space to grow and build a foundation." They also highlight the mentoring and workshop coaching sessions as useful, especially for helping to put the right framework in place. Kai also shares that the attention the startup teams in the program receive is something he didn't expect. "We are contacted by VCs and others who just want to discuss our startup. There are a lot of people looking at the Vision Health Pioneers Incubator and this can provide us, as a team, opportunities." Noah Therapies also recently took part in a program run "Mentor Madness" session which sees teams in the current cohorts meeting mentors and supporters in short bite sized sessions. "It was great to get in touch with so many mentors but challenging too! Running between meetings and fielding numerous questions. It was an overall great experience." 
Vision for the future 
The drive behind Noah Therapies comes from a well-known place. Cancer is one of the most significant public health challenges of the 21st century and it holds a huge economic burden at the same time. In 2020, there were 19.3 million new cancer cases with this number projected to reach 28.9 million per year by 2040. The global oncology spend worldwide was 108 billion dollars in 2017 and this climbed to 206 billion in 2022. Noah Therapies outline that the incidence of cancer cases is rising and individualized therapy plans for cancer treatment are becoming more and more complex. This underlines why the team is so focused on achieving their goal.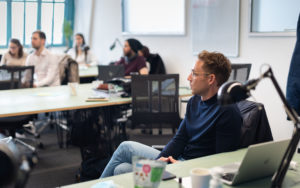 The vision for Noah Therapies is to make precision medicine more manageable and holistic. Anne describes this, "We are using data and digitalization to bring together two important concepts and build a holistic therapy path for patients. Ultimately, we don't just want to make cancer therapies more bearable with that but redefine the way we approach health. New Health does not only focus on precision medicine and the reductionist view (cells, organs, molecules & genetics) but makes space for a holistic view (the human body, its single parts and the system we live in). To tackle chronic diseases we need to look at the person as a whole – their worries, what influences them, and how this affects their health " Kai concludes, "We want to make a contribution to the medical system where we don't stand with our backs to the wall with diseases like cancer but we face them head on. We need time to invest in research, develop better therapies and at the same time find ways for patients to live with it better."