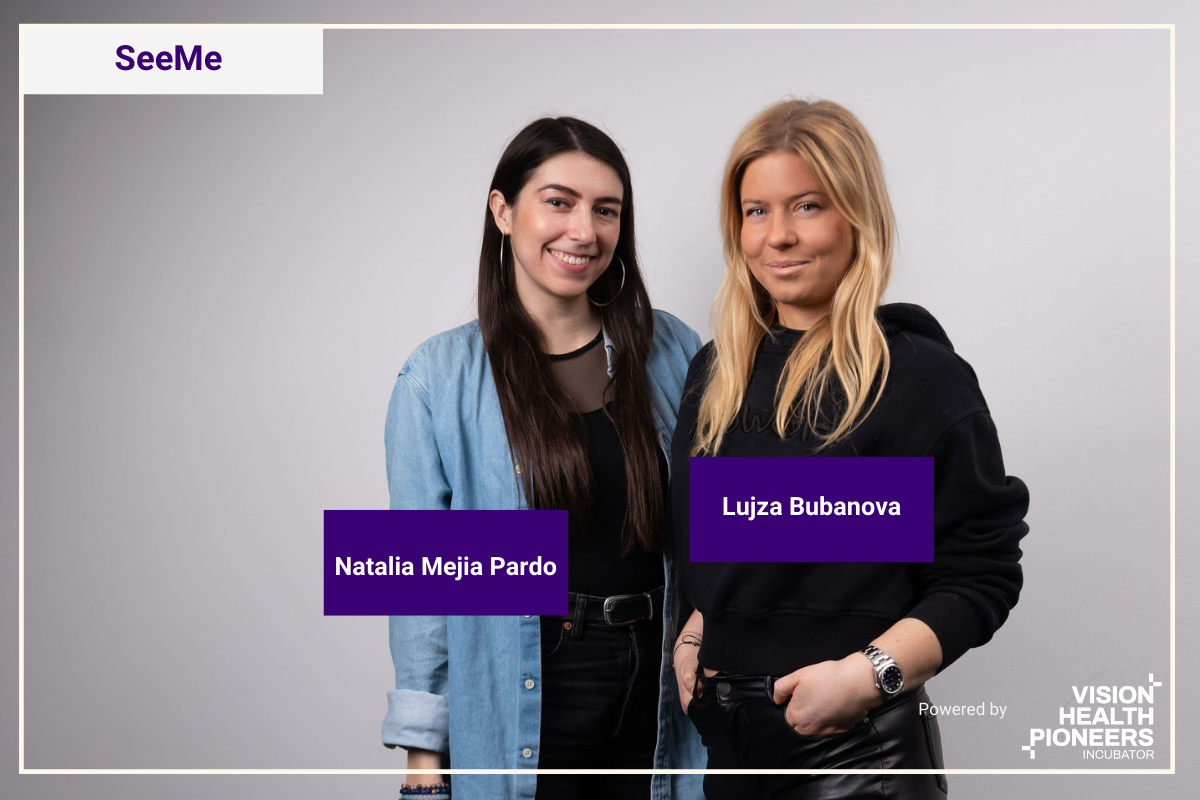 09 Jun

SeeMe – Imagine a thermometer but for mental health

SeeMe, the thermometer for recognizing mental health, comes from a personal place. Its Founder Lujza Bubanova and Head of Research Natalia Mejia Pardo have built on a vision Lujza has held for some time, but only came to realize when Natalia helped give her the courage to openly talk about her story. Their mission is to provide patients with data-driven information to monitor their mental health and inform them if any abnormality is detected. 

"When I was in a depressive state, the one thing I wished for is that people could see me. Being seen is very important for human nature because you feel appreciated, loved, noticed and it can help you feel better. Our software describes your emotions so others can recognise what you are going through and then help you get better." – Lujza Bubanova, Co-Founder, SeeMe.

This is where SeeMe was born, when Lujza lived through a difficult period in her life. Their device is AI driven and monitors the health of patients. It provides an additional layer of information to doctors and patients derived from facial analysis (intensity, engagement, attention, variety of emotions, and heart rate) during a video assessment. Lujza and Natalia want to make sure patients get the very best after-diagnosis care. With automated check-ups that monitor any changes in their behavior, the solution is especially helpful for chronic patients, the elderly, and pregnant women. But it is not only their device the duo are working on, they also want to positively change the way mental health is addressed. 
From a personal place
Lujza shares her personal story which today drives her desire to propel SeeMe forwards. "I went into a spiral of depression after a startup I was building didn't work out. In the aftermath I found myself sitting in a room just staring at the wall. I was hiding what I was feeling from the world. Nobody, not friends or family, knew something was happening to me. But one thing did recognise something wasn't right – software."

At the time Lujza was working with others in her home country of Slovakia and completing a lot of pre-testing which would inspire SeeMe's solution. As member zero, she was in the results and they were showing that she was suffering. When seeing these findings in graphs, it was actually quite intense and opened her eyes. "When going into depression, emotional peaks become rarer and I realized that we are not always aware that we're heading into serious trouble with our mental health." This was the moment where Lujza believed the software could become life changing and save people before they went deeper. "From these results, I knew I needed help and needed it quickly. It then took three months before I was better again." Lujza goes on to explain how data, in this form, is so significant and how these results became the catalyst for creating SeeMe. 
She would soon meet Natalia who is today openly very excited by the possibilities of SeeMe in B2B and B2C markets. "I've been excited since Lujza and I first connected via a three-line LinkedIn post. As soon as I read it, I knew it was right for me, even though I was based in my home country of Colombia at the time. Lujza and I clicked immediately. My background is in political research and I have used that skill set and applied it to our software. The whole idea is coming to life now." Natalia explains. Joining the Vision Health Pioneers Incubator was the next step in their journey. They would walk through the incubator's doors in January 2022 and were prepared for ten months of coaching, mentoring and support in a healthcare focused startup program. 
They are both thankful and supportive of the program. "We enjoy the directness and structure of what the Vision Health Pioneers Incubator provides. I sold my apartment, gave away my car and moved to Berlin for this opportunity. I put all my cards into mental health." Lujza states openly with almost relief before going on to say, "I need structure in my work because I am more of a visionary and creative person. The other startups in the incubator, the mentors and the alumni all hold amazing personalities and different experiences. That really helps." Natalia adds, "My background may be in political science and public policy but through the program I feel connected to the health industry, the startup world here in Berlin and overall I'm amazed by the innovation taking place. I admire those like Lujza who share their personal story and believe in fighting for their idea to become a reality. Being an entrepreneur is really difficult, you have to balance money, time and constantly believe in what you are doing. We are learning lots and applying it to a super complex German market."
Seeing Lujza and Natalia interact, there is clearly a connection between the two of them. Lujza is equally as thankful for her fellow SeeMe teammate and for bringing her onboard. "We must have held around 50 interviews at the time but what really triggered me about Natalia was her inspired logical thinking and the ability to know we face challenges but willing to fight as well." 
Quick to market
SeeMe aims to bring their solution to life as quickly as possible. Through partnerships with other projects, a PR strategy which included Lujza having the opportunity to speak at the House of Balance at the renowned Davos conference, and trying to secure venture investment, they are working hard to make a difference. "We are currently exploring how best to bring in mental health professionals and create a patient journey from onboarding in social media to a trial period." Natalia explains before Lujza adds, "The opportunity to speak at Davos came from my personal story. As soon as I started talking about what I went through, there has been professional media interest and equally interest from investors. The story before actually seemed confused but now it's relevant and explains the value of what we are providing. Natalia helped me achieve this." SeeMe also recently undertook a joint initiative with The Swarovski Foundation to provide free support for 100 people in Germany. 
Utilizing personalized mood AI technology
"The AI technology follows users' normal reactions, when something out of the ordinary happens, the tech notifies either the user, doctor or both. Whoever you allow to be connected to the platform. It's similar to a monitoring and alarm system that you find in big machinery. There is naturally heavy regulation and it can be dangerous if we tell users the wrong information, so our focus is on accuracy, privacy and security." This is how Lujza describes their solution and adds, "For example, all computing takes place on a device and no data travels to the cloud, so it's secure. There are challenges when it comes to battery, connection and memory but our ultimate goal is to publish our own complete application."
Lujza has a background which includes a Masters in Digital Marketing and early entrepreneurial experience from working with startup conferences. "It was a unique opportunity because I was able to see how companies like Draper, the first investors in Tesla, supported startups. In my home country I co-founded four companies – sold one, one failed, one split up and the other eventually inspired SeeMe." Lujza is also helping to create a digital mental health association which is focused on joining forces with others and creating documents and data which helps protect employees. "I decided I wanted to be present at the table in digital health and luckily I have met some great people with supportive networks." Natalia adds onto this, "There is this great supply of mental health applications and services but no general standards of quality. In Germany if a business doesn't choose the DIGA route, then poorly applied clinical trials and medical support can result in long term consequences. We feel that everything created has the best of intentions but at the same time, standards must be kept." Their long term goal is to generate structural or policy change that supports all mental health applications.
Despite being early-stage, SeeMe already has interest from larger manufacturers who want to potentially apply their solutions for their employees. "There is an interest in creating use cases for mental health monitoring. Whether for patients or customers, the security is knowing that there is an application that may notice a decline in mental health early and therefore prevent something serious. Now we are bringing that belief to life." Lujza explains. 
Natalia and Lujza are dedicated to creating a better life for many people. Lujza outlines this, "We are not fighting for dollars, but fighting for health. Sometimes businesses look at a pie chart of their competitors and work through which pieces of the cake they can steal. We see it differently. We want to work together and SeeMe is our gateway to make a difference. It is special what we are doing and our life now is to protect others."