21 Dec

Sharing is Caring – Support the Healthcare Workers worldwide!

2020 has been a turbulent year. The good, the bad and the ugly – all happened in one short year. Now, it is time to look back and appreciate the good times but also act to support others that have not been so fortunate.
The Good
In 2020 our incubator team had the pleasure to work with 20+ dedicated healthcare entrepreneurs. Seven new healthcare solutions are now available for patients, medical professionals and care givers. More than 100 mentors, coaches and jurors supported the 20 founders in their startup journey. THANK YOU!
The Bad
Life was not as expected in 2020: Working from Home #WFH required new skills. Social distancing created new challenges. Yes, we missed human contact. And yes, we all distanced to flatten the curve – and we will continue doing so. Was 2020 a good year to found a new company? For sure it was not the easiest time – but let's be honest: New beginnings are always tough. We are proud of every founder that dared!
The Ugly
In 2020, Covid-19 showed how ugly a "small" virus can be. It made public life stand still. It pushed healthcare systems around the world to its limits. It made people scared of human contact. It impacted our lives and healthcare like never seen before. And it will continue impacting us.
Holding strong
But it also showed how important it is to work together. In 2020, more than ever, we have to care and we have to share! Therefore, the Vision Health Pioneers Incubator team decided to support two movements that are close to our heart: Médecins Sans Frontières (Ärzte ohne Grenzen) as well as the Movember campaign of our Demo Day keynote speaker Keith Grimes. Altogether, we donated more than 800 Euro which equals 7,50 Euro for every one of the 107 coaches, mentors  founders, investors and jurors that supported us. Many of them are active healthcare professionals that spend their precious time to improve and digitise healthcare.
Now, it is on you – two initiatives worth supporting!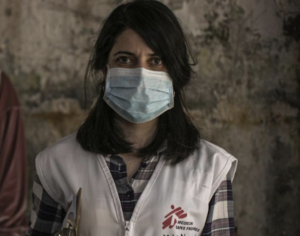 Médecins Sans Frontières (MSF or 'Doctors Without Borders' / Ärzte ohne Grenzen) is an international medical NGO of French origin best known for its projects in conflict zones and in countries affected by endemic diseases. In 2019, the group was active in 70 countries with over 35,000 personnel mostly local doctors, nurses and other medical professionals, logistical experts, water and sanitation engineers and administrators.
In 2020, Vision Health Pioneers donated 535 Euro – 5 Euro per mentor, coach, investors and juror that supported us. Donate!
In 2020, Keith Grimes raised more than 1500 Euro for Movember! Vision Health Pioneers donated 275 Euro for this good cause. Mental health and suicide prevention, prostate cancer and testicular cancer – the Movember is taking them all on. Since 2003, Movember has funded more than 1,250 men's health projects around the world, challenging the status quo, shaking up men's health research and transforming the way health services reach and support men. Donate!
Again, thank you for staying strong in 2020. We are looking forward to tackling 2021 with you!