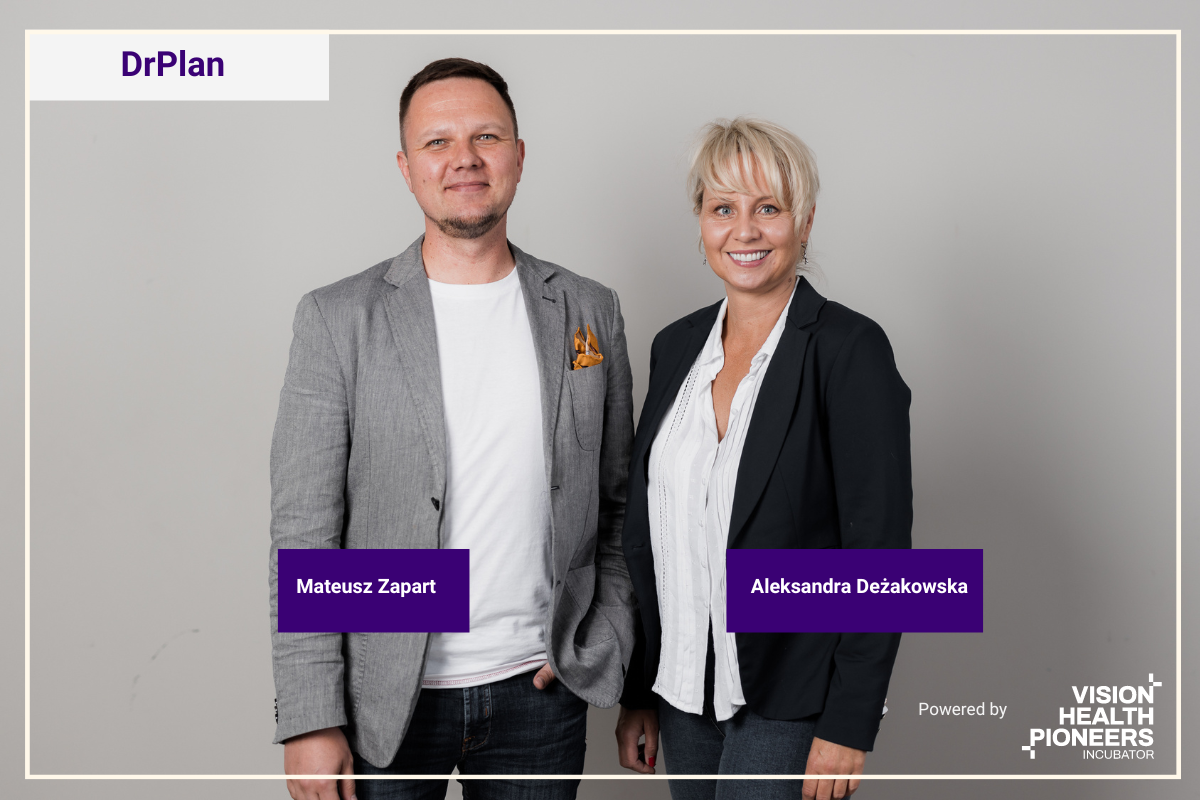 22 Mar

One journey for patients, dentists and dental clinics – DrPlan

DrPlan (formally named Dent's Play) focuses on the treatment process in the healthcare industry. It was born from first hand experience and started, like many startups, in a dislike of Excel and a desire to create an easy and time saving approach. In a nutshell, DrPlan is a financial management Software as a service (SaaS) tablet application for patients, dentists and dental clinics. The original idea of Aleksandra Deżakowska, the solution helps patients, dentists and dental clinics find out how to successfully manage a patients journey at the dentists. Born from frustration and built from experience, DrPlan joined Vision Health Pioneers Incubator as part of the fifth cohort and has a vision for improving dentistry. We interviewed the team of two to discover how they are orchestrating their desired success.

Aleksandra Deżakowska is the Founder and CEO of DrPlan. A Polish dentist with 20 years of experience running an independent dental practice and medical center which employs 16 people. This work includes treatments, business organization, recruitment and the implementation of processes. It was when Aleksandra began running her own practice that she saw the problems in the sector and she shares why this led to building DrPlan. "Dental treatments from start to finish can take one, two or even three years and naturally costs a lot of money and time. Patients are not robots and often start treatments and then do not finish them. At the same time a dentist is not a coach and may fail to keep a patient motivated. Then there is the owner of the practice – they are often not from a business background. All combined, this means the problems impact the service, efficiency and at times, health of patients. I decided therefore to solve this problem by helping patients plan financially and mentally for different kinds of treatment. We help dentists engage with patients quicker and they can avoid having to spend hours explaining and showing the benefits of a certain treatment. At the end of day we want to treat patients, not spend large amounts of time talking." These frustrations led to the beginnings of DrPlan and this is their journey so far.

"We want to solve these problems because patients frequently cancel appointments due to both the pandemic and a lack of money. Dentists lose out when patients make last minute cancellations. Equally regulated and fixed prices in Germany combined with high inflation and rising energy costs make for a deadly combination for businesses."

"We start with the mandatory treatment plans that exist in Germany. These are under the rules of BEMA and GOZ tables which cover the general principles of dental care, federal contracts and the uniform evaluation scale for dental services. So everything related to the content of services that can be billed by dentists. We also start with cost plans (Heil- und Kostenplan) which offer reimbursements. This is the cost overview for more expensive healthcare treatments that the dentist plans to perform. We add the schedule and electronic patient documentation and a billing and reimbursement module. This allows us to calculate the cost-effectiveness of treatments, which doesn't currently happen, despite the mandatory forms involved. Then we go forward into other medical specialties and free-up other doctor's time from administrative work"

DrPlan connects three groups of stakeholders: patients, dentists and dental clinics. With only one journey, the patient receives a mandatory treatment plan with services and costs. The dentist has an easy-to-use tool for planning and processing everything and the dental clinic owner automatically has the time, cost and profit for each patient's journey.

Aleksandra explains why they focus on these areas, "During my day to day work, I encountered the problems involved in each of these parts of a business. We therefore decided to focus here and try to solve some of these problems through our solution." By 'we' Aleksandra includes Mateusz Zapart, her fellow Co-Founder, who in his own words was looking for a cool project to become involved in and having met Aleksandra at a startup conference, soon fell in love with the idea of DrPlan. The duo now work together to achieve success and build a tool which supports the management of a dental practice in an easy to use way.
One journey for patients, dentists and dental clinics – DrPlan
DrPlan originally began as the coronavirus COVID-19 pandemic first appeared. As the world closed its borders and in many cases businesses, Aleksandra used the time to really think about what she could do to improve the industry she loves. She shares these early steps, "I had one month free from my normal work because we had to close. I realized that despite the obvious horrors of the pandemic, it offered me the chance to work on a new idea. I was also quite exhausted by this time. The work of a dentist is emotional and physical and I could feel the health of my hands was suffering from continuous work. I threw myself into the idea of DrPlan as a result and it was wonderful to have something fresh to do. In hindsight I completed about two percent of what DrPlan is today in a two or three month period, but I was really happy." It's a refreshing tale of how the pandemic provided Aleksandra with the chance to relax a little whilst focusing on creating something new and exciting. However, like many startup adventures, it was a little bumpy to begin with.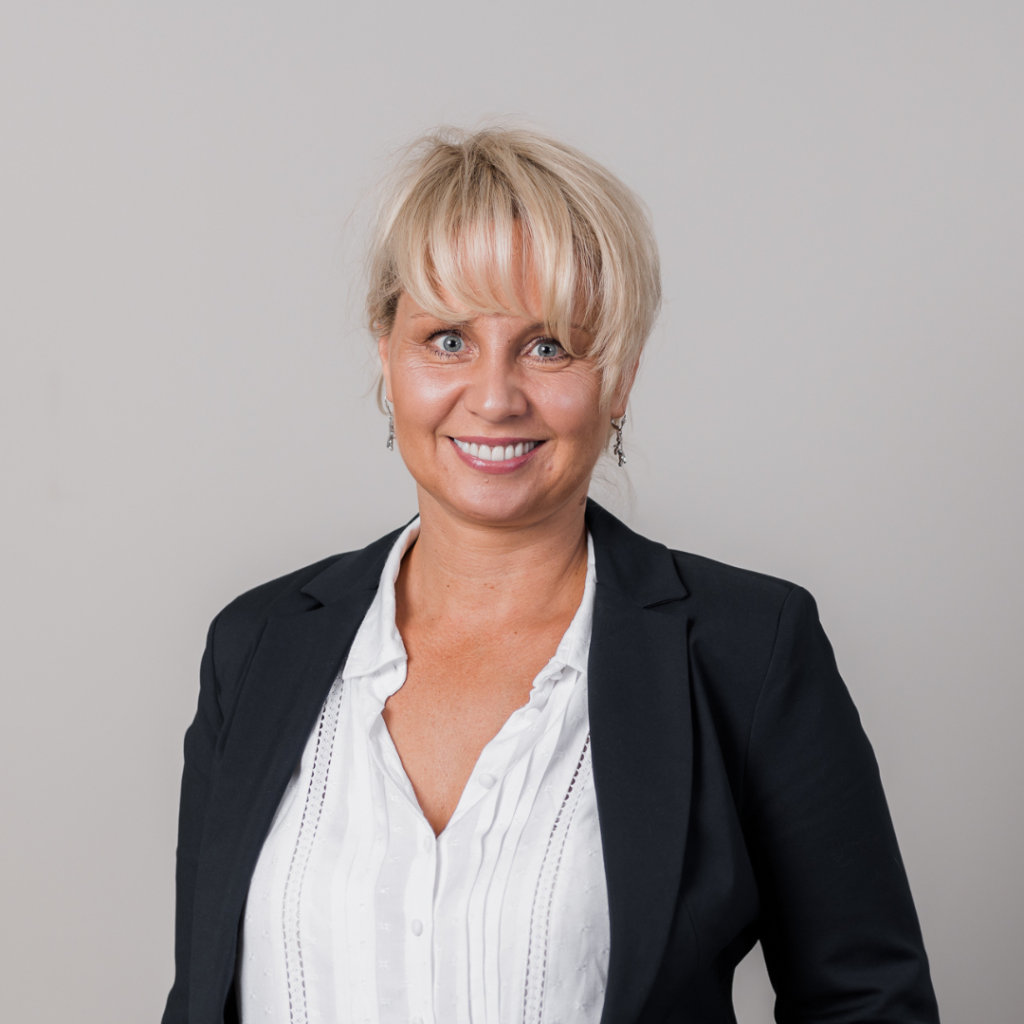 "But I made a horrible mistake"
Aleksandra is your typical startup founder, driven and optimistic on one hand and open and honest on the other. She believed it was possible to deliver DrPlan as an app in just six weeks but soon discovered this was an impossible task. She shares these early days. "I signed a contract with a software house and was ready to roll out my app in under two months. But I made a horrible mistake. I had no knowledge of certain aspects of how to do this and was naive in what could be achieved. There were misunderstandings, programmers who didn't understand my expectations and if I'm honest maybe I wasn't even sure what I needed. I learnt, changed my idea and instead took a slower route." It's a candid remark. But the road Aleksandra took instead was far more successful for the long haul. She engaged an entrepreneurial friend and spent a year and a half understanding what she needed and how to build it. Aleksandra continues, "We met every two weeks for two hours and created the base on which DrPlan is today. I learnt so much from this experience and wouldn't be where I am today without having gone through this."
Aleksandra focused on finding early users and gathering as much knowledge from them as possible. "I was impatient, I wanted to build the software right there and then but I was just a dentist and didn't know which step to take. My connections up until that point were only dentists and I wasn't in any societies which shared information on business building. However I was recommended to attend startup events and this was the next big step on the road to building DrPlan."
When Aleksandra met Mateusz
The duo behind DrPlan originally met at a startup conference and it was this chance meeting that led to them coming together and eventually joining Vision Health Pioneers Incubator. Aleksandra shares this first connection, "It was only my second event and I was trying to develop the idea and pitch it. We met and talked about building an easy tool for dentists, which could be at such an easy level you could almost compare it to one that kindergarten children could use. We spoke following this first meeting and after some great conversations, began to work together on building our solution."
The vision outlined by Aleksandra and Mateusz was then focused on recruitment as a starting place. Mateusz has experience in these areas and they were able to combine this with Aleksandra's knowledge of running a dental practice. In short, recruiting staff is difficult and they wanted to make it easier but they soon realized this wasn't a route they wanted to take.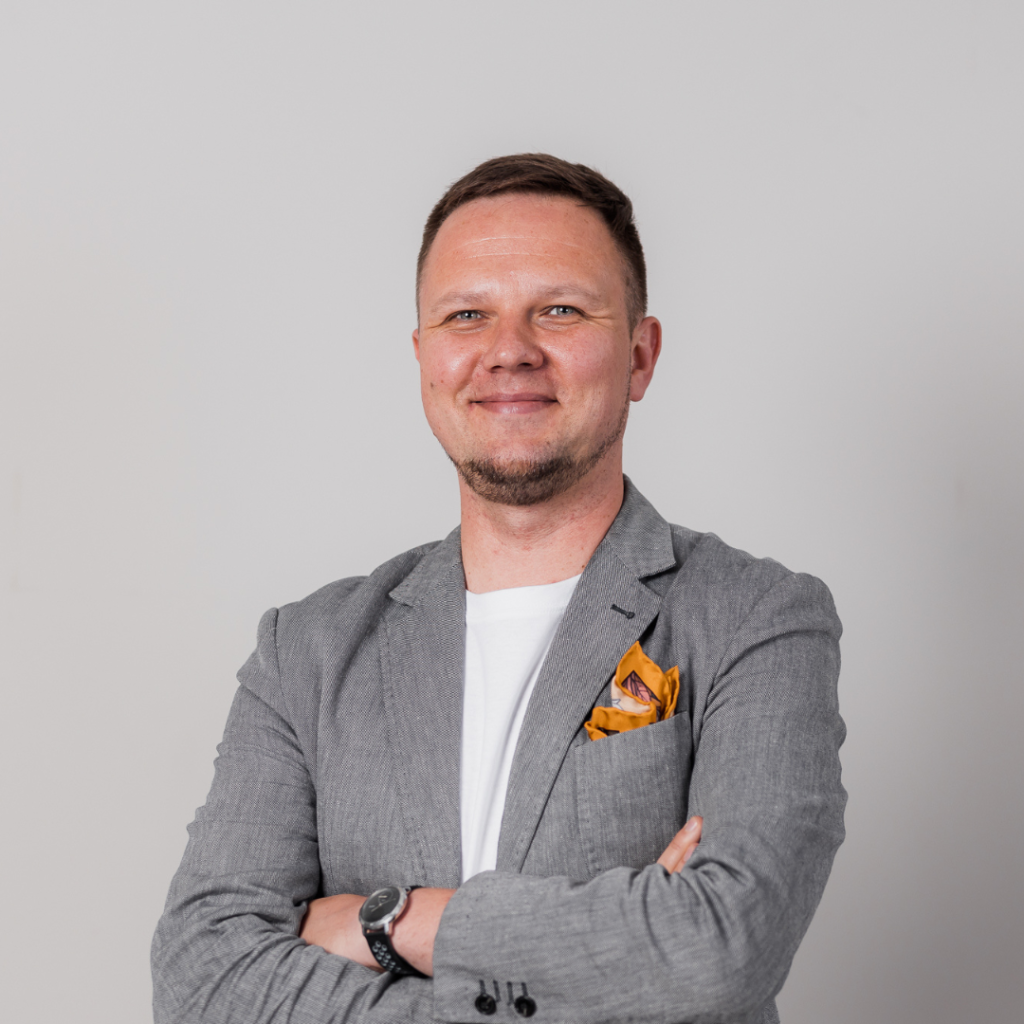 Wolves Summit, the annual conference, is a meeting place for investors and tech companies. It was here that Aleksandra met Adam Formanek, Startup Coach at Berliner Hochschule Für Technik (BHT) and friend of Vision Health Pioneers Incubator. This would lead to the duo discovering the programme for healthcare startups. Berlin is credited as a home for the birth of many great, successful startups but what is probably less known are the connectors who find the teams and support their journeys. Adam is one such connector and soon Maren Lesche, Program Director for Vision Health Pioneers Incubator would find out about DrPlan and encourage them to apply for the programme. Aleksandra shares more on this incredibly hectic but exciting period. "It was a whirlwind – we came to Berlin to pitch our startup but I needed a Co-Founder and so asked Mateusz only days before the event. We both realized it was completely crazy but we did it. Maren was a mentor for the event and was interested in what we were doing. We said yes and within weeks were in Berlin exploring how to get the infamous Anmeldung! We were so happy to join Vision Health Pioneers Incubator and enter the German market."
From these early days joining Vision Health Pioneers Incubator in the summer of 2022, the duo have made impressive strides forwards. They completed their first pieces of their tool with their software house and began validating by interviewing Germany based dentists on what their needs were. Aleksandra shares, "The system in Germany is different when compared to Poland. Especially when we looked at inflation rates, the profit margin and the overall market. 95 percent of dental practices here are linked to German statutory healthcare. We remain curious and continue to build our knowledge and structure our tool so it benefits dentists here in the best way."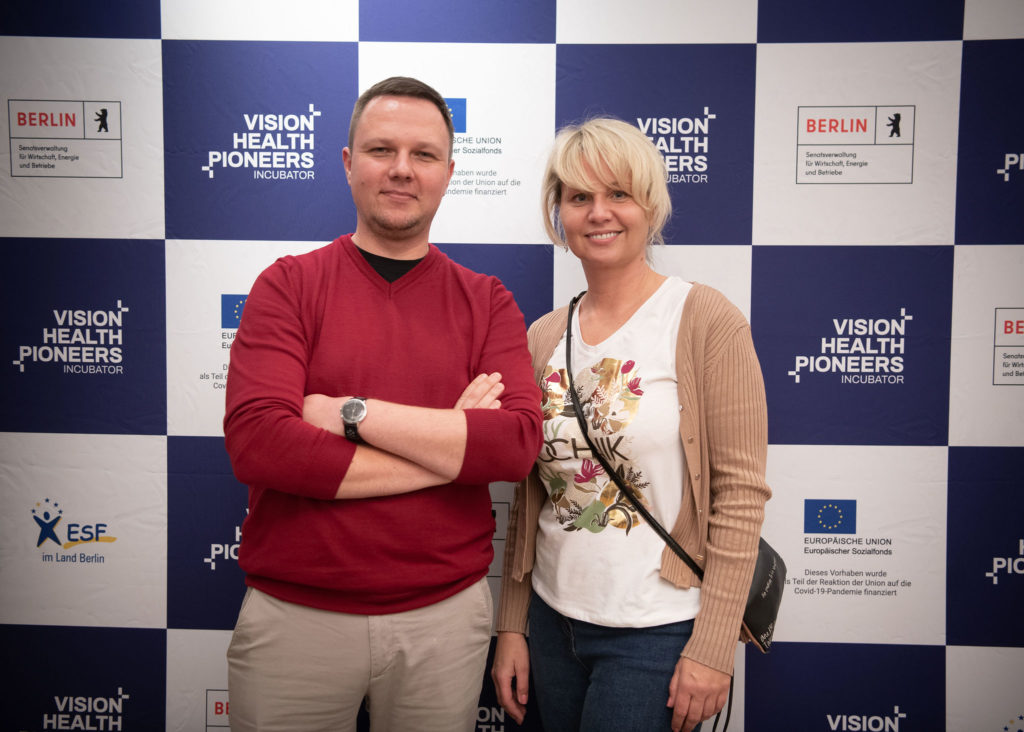 Mateusz shares. "Before entering the incubator startup programme, our product was in the advanced prototype stage and was being validated on the Polish market. We knew the problem and understood it well. By gaining a deeper understanding in Germany we almost went back to the very beginning and focused on the most important pain points. By redesigning  DrPlan for Germany we realized that we could benefit dentists here and this has been a rewarding process so far."
Meet the team behind DrPlan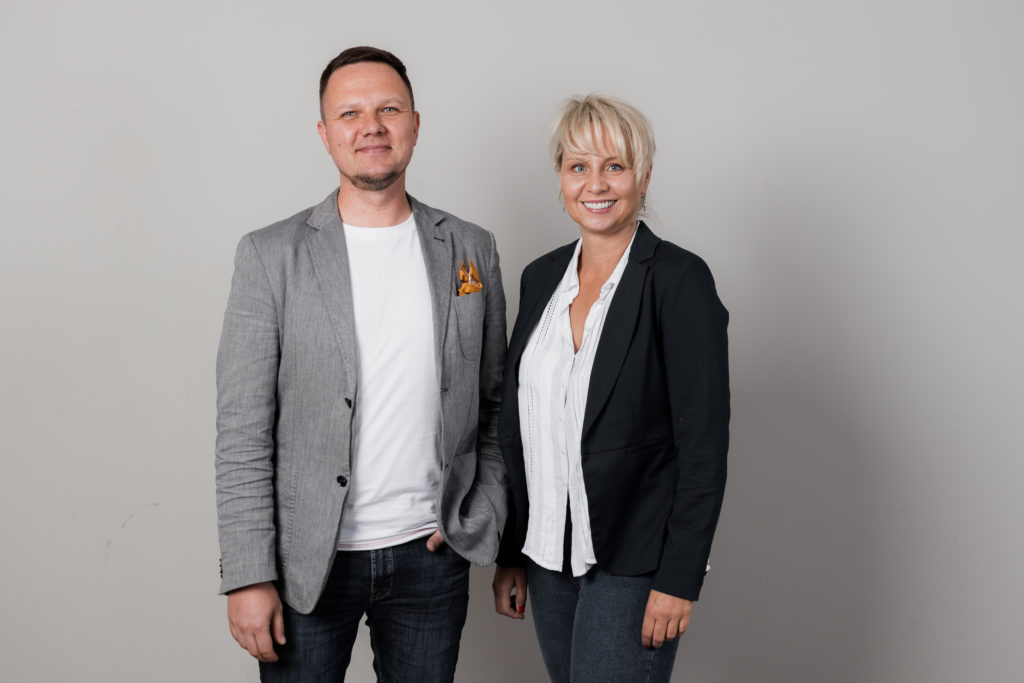 Aleksandra focuses on ensuring DrPlan is right for the German market and developing the product based on the needs of dentists here. As well as fronting the startup and working on sales. Mateusz equals this out by focusing on business development and using his technical background. He also plans to focus on marketing in future stages of their development. Mateusz explains, "In the future we will need to bring in a possible third founder with a strong technical knowledge. They need to be aligned in how Aleksandra and I operate which is around sharing tasks and responsibilities. Since there are only two of us, we realize the importance of collaboration and also never sticking to just the core tasks of your role."
The team of two are flying high and are supportive of the Vision Health Pioneers Incubator. Aleksandra jokes, "The programme has been an incredible adventure for my English language skills! I learn new words and skills every day and really appreciate the speed we move at. The mentors and coaches are experts in startups and are a great source of knowledge and inspiration. Mateusz smiles as Aleksandra shares her feelings towards the programme. "I echo these thoughts. Berlin is a great city for startups and also for the financial world. It's not as big as Silicon Valley but it's the capital for startups from my point of view. It's really great to benefit from the specialists in this city and those connected to the incubator."
DrPlan wants to make life easier and save time and energy for those managing dental and healthcare practice. Aleksandra explains, "We want to improve the situation so they have more time to spend with their loved ones. We aim to improve efficiency, atmosphere and reduce admin duties for practice owners. Mateusz adds, "We will take DrPlan across Europe and become a leading software for all healthcare specialists. It's all about resolving problems and meaning less stress overall."
It's a noble intention and the team behind DrPlan are open about how startups should never be afraid to change an assumption on their own product. Mateusz outlines how to develop an idea, "You need to listen, to think about the future customer and never be ashamed of having to start something over. In the end it doesn't matter if you start again 17 or 700 times, the final result is the key." Aleksandra nods at these words and adds, "You don't know everything in the beginning, and we recognise this. We're always open to learning and look forward to a very fulfilling 2023."
Watch DrPlan  present at the upcoming virtual Demo Day 2023! Join us:
🗓️ Tuesday, March 28, 2023
⏰16:00 CEST
💻Virtual