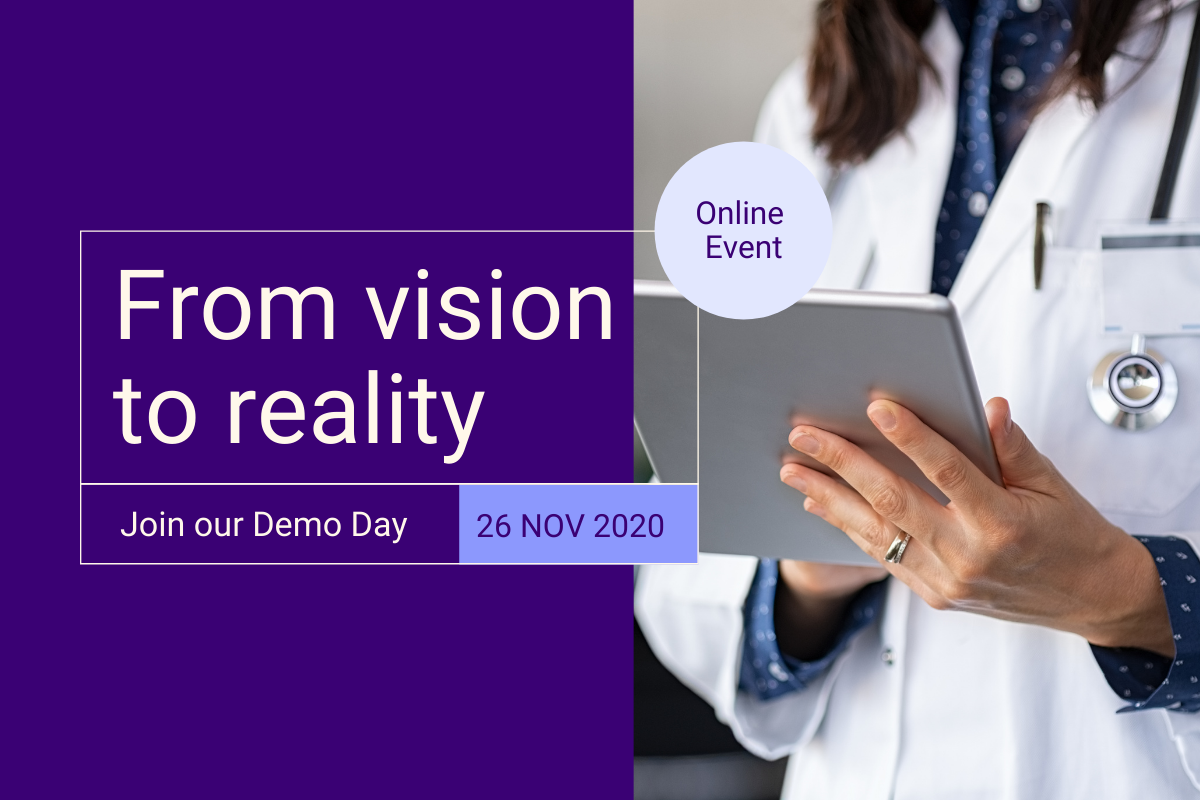 10 Nov

Join our Demo Day – FROM VISION TO REALITY!
Ever wondered how to turn a Healthcare Startup vision into reality? We know 7 future-forward Startups that can show you how it's done. 
Vision Health Pioneers Incubator kicked off in March 2020, welcoming 7 teams into the program. They all came from different backgrounds, had different nationalities or ideas, and one great thing in common – a vision for a healthcare product that can improve people's lives. It took hours of brainstorming and learning, testing and failing to get to where they are now. Prototypes have been designed and built, apps have been created, beta products have been used and tested. Now it is time to share them with the world!
We invite you to the first-ever online Vision Health Pioneers Incubator Demo Day on November 26th at 5pm. Join us for content-packed 90 minutes of Startup Pitches, inspiration, and motivation. Take part in the Q&A Session and get more insight on turning vision into reality from our Keynote Speaker. This Demo Day is a place to be, for anyone who wants to know, what is currently happening in the world of healthcare startups.
How to take part in the event? Easy – just register through Eventbrite. We will send you a link to a live-stream platform before the event
On November 26th, it is time for them to shine. We prepared the following agenda for you:
5:00 PM: Opening of the Virtual Stage
5:10 PM: Keynote
5:30 PM: Startup Pitches
6:40 PM: Closing Words & Celebration
6:45 PM: Book your 15 min 1:1 with the Startups
We have a special treat for all investors interested in working with Startups. Are you looking for a collaboration, want to offer support, or opening opportunities for financial investments – contact us to secure a private 1-on-1 discussion with the Startups after the event.
Want to know more about the startups? Each of our seven teams is working on a different healthcare challenge: 
The Pitching Order of the Night
Hers – is a FemTach startup giving back women their confidence and freedom by developing smart connected individualized solutions for pelvic floor dysfunctions.
My Skills – MySkills supports people with a borderline personality disorder. 
Biotikur – helps you balance and maintain your gut microbiome.
Advosense – is on a mission to transform elderly care.
My Paramedic – My Paramedic is a home-based interactive digital cardiac rehab aftercare program.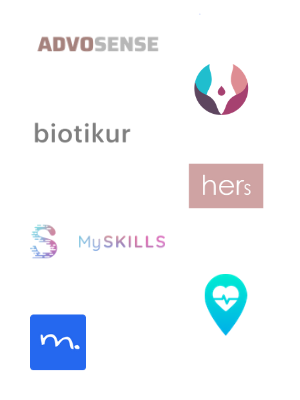 Inu Health – is on a mission to empower women with endometriosis to lead a pain-free life.
Mila.health – is tackling workplace mental health. 
Don't miss out on the opportunity to meet the founders who have managed to turn their visions into reality reality! The Demo Day event will be 100% online so you can watch from anywhere! Join the livestream on November 26th – at 5pm and see, how much can be achieved in less than a year.
We look forward to welcoming you!
*
Investors who are interested in meeting the Startups in addition to the event, get in contact: maren@visionhealthpioneers.de
Journalist who would like more information about the event, get in touch: jemma@visionhealthpioneers.de