21 Jul

Going global with Karis and ALMA – Our startups present abroad

Recently both Berlin startups Karis and ALMA, in the current Vision Health Pioneers Incubator, have crossed borders, within the confines of current Covid19 restrictions, to bring their ideas to other parts of the world. They are just two of the many companies who have brought their new thinking and innovation to Berlin for incubation and then once they have reached a maturity level, started to go international. They build solutions to often complex problems and whether they gain research and insights from other countries or present and pitch to new audiences, at the heart of the activity is how these teams bring their resolution and innovate remedies to people. Here they share their recent activities.
Karis pitch at the most influential startup event in the world
How did Karis, who integrates art, science and emerging technologies into a unique treatment option for people with ADHD, find pitching at one of the most popular startup events in the world?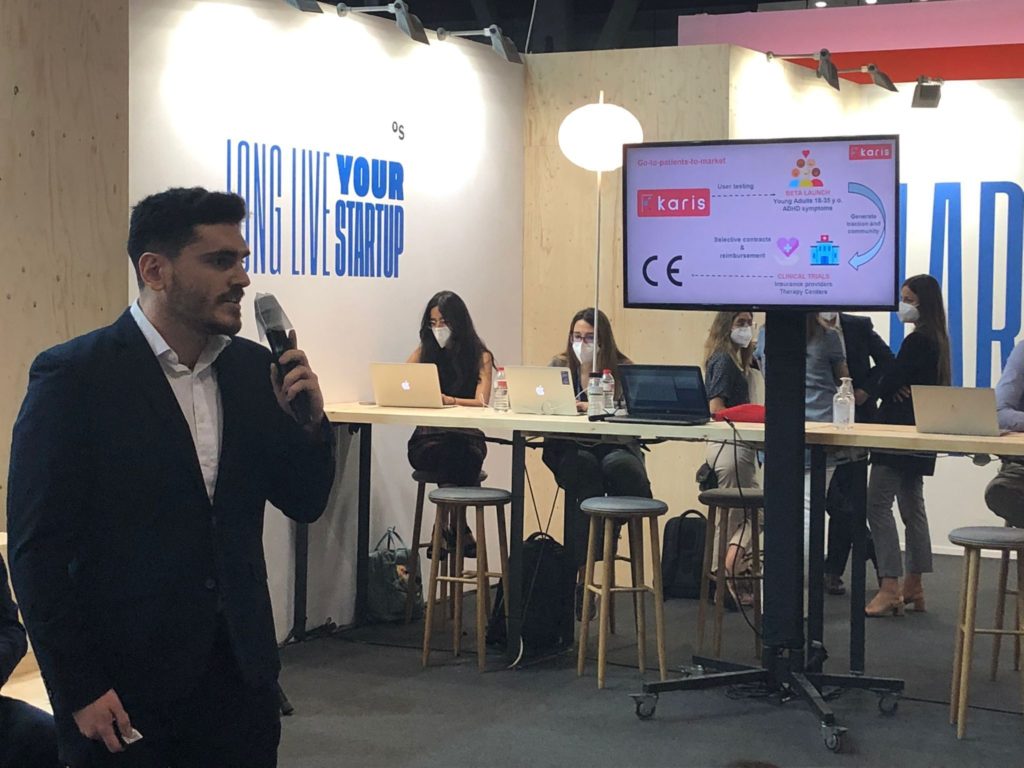 Our Berlin startup Karis attended and pitched at 4 Years From Now (4YFN) in Barcelona, Spain. One of the first major conferences of it's kind to take place this summer and a strong sign that it's become possible to travel abroad for events again.
Karis Co-Founders David Garrido and Rubén Nieto López share how the opportunity came about and why it was good practice for INTO THE FUTURE, the next Vision Health Pioneers Incubator Demo Day on 31st August 2021. They were both very enthusiastic with the experience and how it opened their eyes.
4YFN is famed for its global impact and is part of the Mobile World Congress (MWC) in Barcelona. With 950 investors and 100,000 attendees it's clear the reach it has. So what was the experience like for Karis?
"We went with the intention of not regretting anything. It was our first conference in some time and so we wanted to learn more about the international startup ecosystem. At first it was quite weird, especially with everyone wearing masks which makes networking interesting, but then we got used to it all again." David explains.
The opportunity for Karis to attend 4YFN came through the Vision Health Pioneers Incubator mentor network. Aline Noizet, Founder of Digital Health Connector and mentor for the startups who has worked on accelerator programs in Barcelona, Berlin and in the United States. "We were very grateful to Aline for bringing us the opportunity." David says. "She knew we were interested in the topics being discussed and that, even though we are still at an early stage, it would be a great international experience for us."
Ruben shares how they approached the conference. "We went there every day as soon as it opened. We attended sessions on anything related to our activities. Whether that was how to use VR and AR in different ways, the topic of art therapy but also how art can be connected to new innovation. We explored sessions on funding, best practices (especially on digital health innovation) and how to approach investors." All essential topics for the Demo Day 31.08.21 where Karis will be pitching their business.
David also had the opportunity to pitch Karis on stage whilst at 4YFN. "It was a nice experience. You pitched to an audience and to a camera. It made me step out of my comfort zone a little. I felt there were different challenges to pitching online but I enjoyed the experience and embraced it."
"We both appreciated interacting with other attendees. Whether startups, which in a way helps us track where our business is in comparison but also companies which we could collaborate with in the future." Ruben explains. "We are very aware we need contacts for growing our business so we tried to interact with doctors, hospitals, institutions and investors. We even spoke with hospitals with expertise in ADHD. There was excitement there and we have brought that back with us."
David's takeaway word from 4YFN is 'hope'. "It's hope because despite the physical distancing we have all been doing, we are all finding a way to make things happen. There is a startup ecosystem and there are people involved that want to help you and share their knowledge. The most interesting aspect of innovation for me is when different ideas come together and that happens when you can interact with others." Ruben adds, "It doesn't matter what kind of business you are, what matters is the problem you are trying to solve. That's the kind of environment our startup in Germany wants to be in."
ALMA holds their first of many international events
Just last week in Madrid, Spain, ALMA held the first of their international events where they are researching and analysing feedback from attendees. Co-founder Giulia Tomasello shares why having an international focus is important for the development of their platform and their plans for future events around the world.
ALMA is developing a community that captures what it means to live in a female body. A safe and inclusive space where stories can be shared around female intimate care. They use the workshops to analyze different points for front and back end development of their community platform. The team in Berlin then also works on the user journey and user interface developments.
"It can be difficult to find people to talk about something like female intimacy. We've found small groups are best for workshops where people join with intention. At our event in July in Madrid we held contact exercises to create trust and then activities to understand a personal journey through self-care."
Giulia explains that they are trying to understand the invisible and invisible taboos of society. "What is hiding us from being who we want to be. Are we trying to fulfil parts of a gender role which are not who we want to be, but what society has made us believe us to be."
ALMA is focused on gathering insights from people across the world because they want their community platform to be a place where all female users will not feel alone. "In our sessions we are taking on board suggestions and feedback from what the majority are saying towards female health. It is a place for sharing experiences and that's powerful. We are already seeing how fear can be overcome when realising we can solve things and try different solutions."
Having a platform constructed with input from people is important for Giulia and Berlin startup ALMA. "At the moment we are evolving with ALMA Connects Flora which developed from ALMA Meets Flora. We held events internationally for this first stage of research and now we are looking into what it means to deal with society that doesn't understand the many sides of the female world."
ALMA meets FLORA explores how intimate female health is experienced by women* in our society:
ALMA is currently planning for upcoming events in Germany, Italy, Sweden and South America. For those who cannot attend these events, ALMA has also created an online survey for gathering feedback.
Giulia summarises why international focus is so important for the Berlin based startup. "We want to know how women all over the world feel and how they would react."