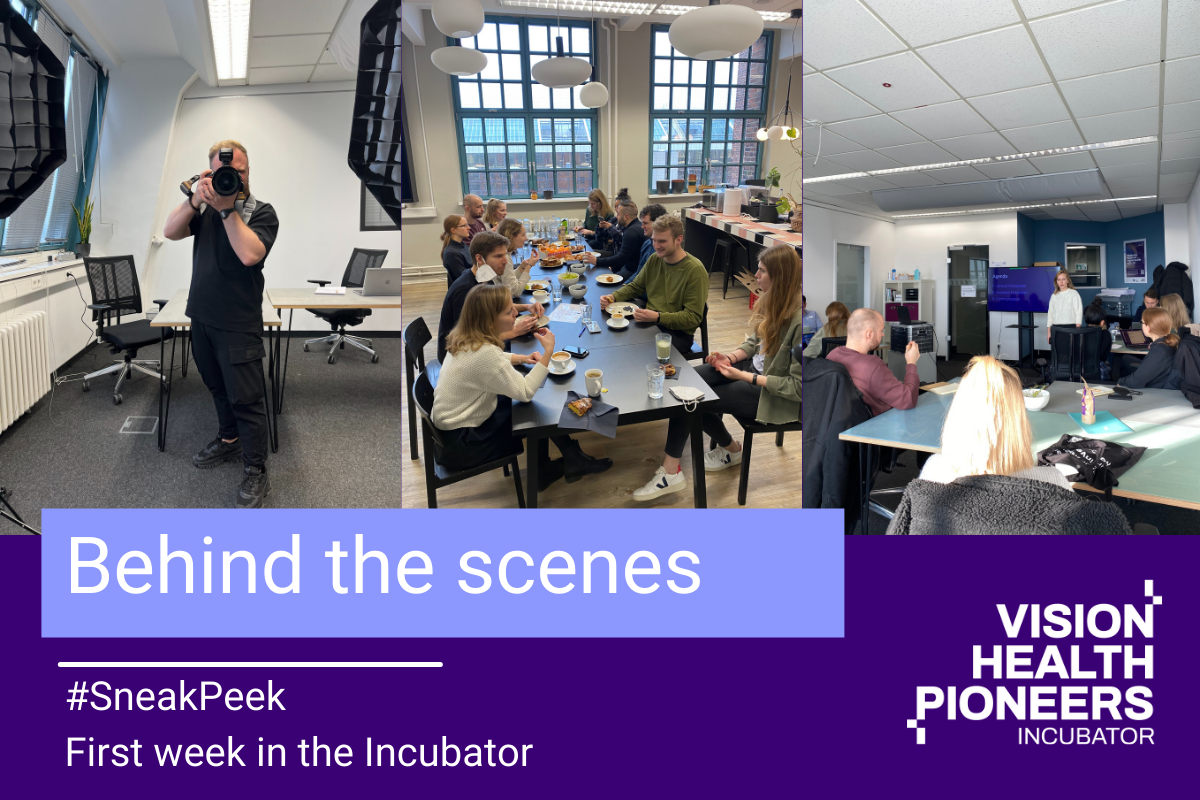 24 Jan

Behind the scenes – first week in the Incubator

A behind the scenes look at the first week in the Incubator. In January 2022, the third cohort in the Vision Health Pioneers Incubator stepped through the doors to begin their thrilling journey. They follow in the footsteps of the first two cohorts who have taken their startups from a vision to a reality and will themselves be followed by another two cohorts. They will join them in April 2022 (fourth cohort) and July 2022 (fifth cohort). All three will spend an extended 10-months in the Incubator and benefit from a new and improved program. This includes coaching in smaller group sessions, mentoring from some of the best experts in the world of healthcare and overall general support which ranges from access to test sites, to challenging their business models, to pitch training, to deep dives and much more. They will also benefit from a growing alumni network who have 'been there, done that' and can pass on their experience and wisdom.

All combined the Vision Health Pioneers Incubator is a thriving ecosystem which propels healthcare startups and fuels a growth of problem solvers. The entrepreneurs grow as individuals, grow as teams and grow alongside their fellow cohorts. Whilst the speed of growth will naturally vary between each team, they have all entered the Incubator at exactly the same time and in exactly the same position: they are all first-time founders of early-stage healthcare startups.
Here is a brief behind the scenes look at some of the things that happen in the first week with Vision Health Pioneers Incubator: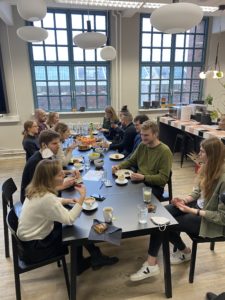 The Vision Health Pioneers Incubator Welcome Breakfast. After all Covid-related safety checks, our entrepreneurs pull up a chair, sip from a glass of champagne, nibble on a croissant and meet everyone else! An important part of any successful relationship is the welcome and this is always done with a bit of style at Vision Health Pioneers Incubator. This was the chance for the startups to find out more about each other and also get to know the Vision Health Pioneers Incubator team.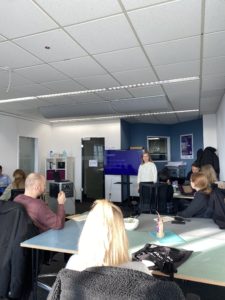 After this warm welcome our Vision Health Pioneers Incubator team introduce the program and talk everyone through what happens during their 10-months in the Incubator. Our structured program is designed to guide them all through the key phases of product development and a go-to-market launch. It's supported by our exclusive partner network, which includes experts in healthcare, business, tech and innovation.
Strike a pose! Our trusted photographer Dominik Tryba takes portrait and team shots for all the startups which are used in all future communications about their exciting businesses. Dominik has taken all the entrepreneurs headshots and group shots since Vision Health Pioneers Incubator began and this provides a consistent style approach. His approach will always eventually get a smile out of everyone. Here is a behind the scenes look of the photography in action!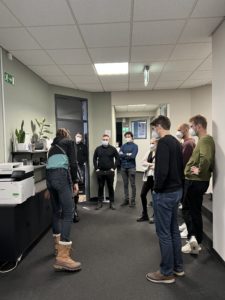 Our new crib is Unicorn Workspaces and so during the first week our latest cohort took a tour of the impressive site. With the engaging and welcoming on-site barista team, we are sure our startups will enjoy the instant availability of a coffee or tasty treat. As well as their private room, our startups can use private phone booths, a barista room for important breaks and for those who need a few minutes shut-eye, there is even a napping room.
It's a non-stop first week for our startups when they enter the program. This welcome provides the perfect introduction to what is about to happen and is a strong grounding for the overall appreciation of everyone in the exciting journey. We love supporting startups and watching them all develop for an even stronger future of healthcare.