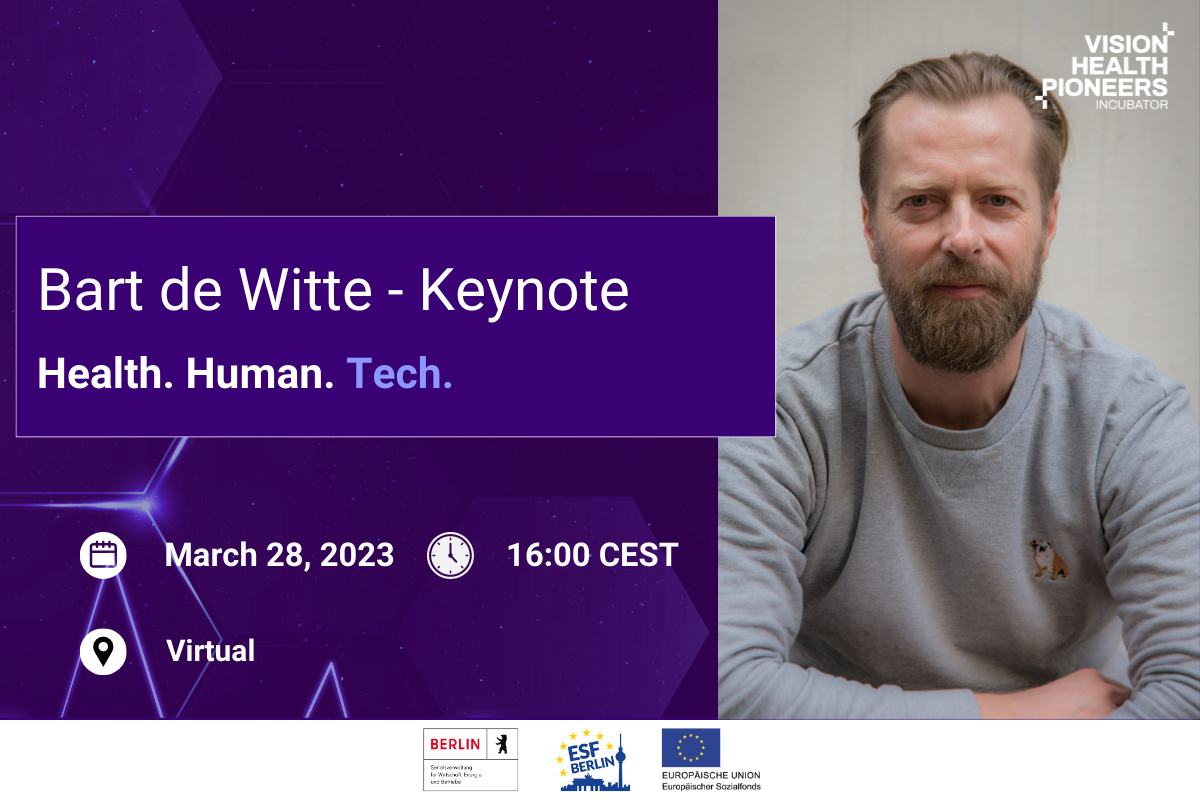 07 Mar

Bart de Witte – keynote address at Health. Human. Tech. Demo Day 2023!

Joining our healthcare startups for a keynote address entitled "The Healthcare Dilemma – Balancing Scarcity with Abundance" is Bart de Witte! The award-winning digital healthcare expert drives equitable and sustainable healthcare through open source AI and is the founder of the HIPPO AI Foundation in Berlin.

We interviewed the healthcare thought leader for his views in the build up to Demo Day 2023! We are proud to have Bart de Witte involved in Health. Human. Tech. His vast experience and proven track record in technology and innovation in healthcare will be of great benefit for both the healthtech startups and our community. Make sure you register for your free virtual ticket and check out his thrilling keynote, live from the stage in Berlin.

Bart has extensive experience advising government agencies and organizations on technology and innovation strategy, with a particular focus on the socioeconomic impact on healthcare. He is a member of numerous influential think tanks, including the Walther Siegenthaler Society and the German Academy of Science and Engineering. Through his work on improving health systems in low- and middle-income regions, Bart developed a deep understanding of global health disparities and mentored startups focused on improving access to care in underprivileged areas.
Bart de Witte – keynote address at Health. Human. Tech. Demo Day 2023!
With our theme of health, human, technology for this year's Demo Day, we would like to know what humans or technology has inspired you most in healthcare?
My belief is that the most effective healthcare technology is open and grants us freedom. My inspiration is John Sulston, who was afflicted with an illness and received the Nobel Prize in 2002. He was a prominent advocate against the patenting of human genetic data and successfully persuaded policymakers to maintain an open human genome. This decision has hastened open innovation and led to a trillion-dollar economic impact. In today's world, I think people have disregarded the significance of having free access to fundamental information that is necessary for developing innovative healthcare solutions. If Gutenberg were alive today, investors might advise him to patent the printed alphabet. However, if this had occurred in the past, we would still be purchasing letters of indulgence, and the enlightenment may never have taken place.
What is the role of technology in the future of humans and healthcare?
The convergence of exponential technologies is providing us with tremendous capabilities, similar to those of gods. However, we are deploying these technologies in a healthcare system that is rife with power struggles and competition, despite the popularization of patient-centric language. Unfortunately, this means that true democratization of healthcare remains elusive. Failing to democratize these powerful technologies could result in even greater health inequalities, as the influence of financialized capitalism over the development, pricing, and valuation of life-saving innovations continues to expand rapidly.
What are you most looking forward to at the Vision Health Pioneers Incubator Demo Day 2023?
I am eagerly anticipating my upcoming conversation with a highly diverse group of innovators, as it presents an opportunity to offer a fresh perspective on the future of healthcare – one that emphasizes sustainability and technology that empowers and most of all liberates us. However, the current startup tech scene, particularly in healthcare, bears little resemblance to the revolutionary, disruptive, and radical culture of Silicon Valley from two to three decades ago. It is crucial that we return to the values and culture that made Silicon Valley great in the first place. While there are many healthcare startups, I have noticed a lack of founders who possess the courage to question and challenge everything. As someone who is interested in going beyond the typical VC questions, which tend to focus on short-term objectives, I am most excited about challenging healthcare founders with deeper questions that can lead to more meaningful and transformative innovation.
How can people find out more about what you're doing?
We just launched our first free service for AI researchers. It's called AskPaper and allows people to ask questions on the research papers they upload. To use this service users will have to join our Hippo AI community server. This is were people will learn what I and others who work on the democratisation of medical AI are doing.  For more general updates I share my insights in my blog.hippoai.org and on Twitter as @OpenMedFuture. I try to move away from classic social media posts, as I have no control on their opaque algorithms.
We thank Bart de Witte for his insights and look forward to seeing him team up with our star moderator Tjaša Zajc, the international digital health expert and host of the renowned Faces of Digital Health podcast.
Come and join Bart and the teams:
🗓️ Tuesday, March 28, 2023
⏰16:00 CEST
💻Virtual