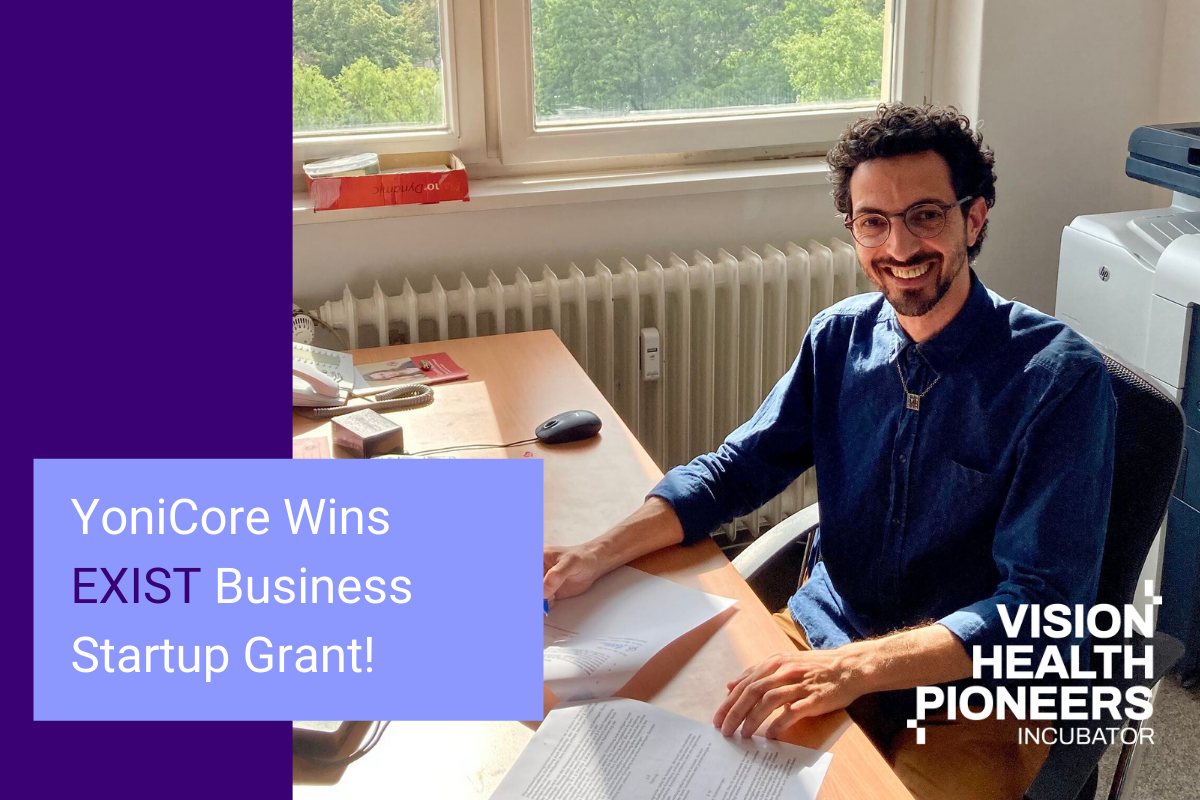 16 Aug

YoniCore Wins The EXIST Business Startup Grant!
"Well what can I say? It was hard work writing the application, but we had great preparation from Beuth University of Applied Sciences Berlin and then we won!"
Yair Kira, Co-Founder of YoniCore is modest when it comes to the amazing news that their startup YoniCore has won the EXIST Business Startup Grant. Supported by the European Union and German government, the grant is focused on start-up teams with innovative business ideas. Yair and his team signed the contracts and moved onto their next exciting step of their entrepreneurial journey. As is the life of a young startup in healthcare, it's about building the business onwards. 
The Vision Health Pioneers Incubator alumni were awarded the grant, having pre-selected their mentor – Professor Ivo Boblan from the Compliant Robotics Lab in Beuth University of Applied Sciences Berlin (formerly Technische Fachhochschule Berlin). 
"We needed to have a research partner and after a few universities turned us down, we were introduced to Bastian Behrmann from Beuth University. We were invited to pitch in front of the Beuth Startup Hub team. They weren't easy on us, but we were well prepared and each Co-Founder could answer about their field of responsibility. For example I remember how nice it felt when Linda Wonneberger, Co-Founder, could explain better than me about the market. While Hugo Silva, CTO, talked in detail about the technology and presented the prototype we built. It felt good to see how we compliment each other as a team and I guess this is part of how we won them as partners. They instructed us through the process and we wrote the application, which took some time because it needed to be in proper german!" Yair jokes.
YoniCore's Mission
Part of the necessary components for securing the grant is being an innovative technology or knowledge based project with significant unique features and good commercial prospects of success. YoniCore with its mission to build an excellent product that will improve the lives of millions of women around the world certainly ticks this box. 
It however wasn't all plain sailing. As Yair explains, "Due to the program structure, not all three Co-Founders could apply to the program. Therefore we decided to search for new team members for this application. This naturally took a little time but now we are happy that we could expand our product development team due to it."

It was a three month wait and then Yair and his team received the news that they had been accepted. "It was a big milestone for us to reach. We were really happy." The grant is for one year and supports up to three scholars per team. Yair explains that there is an allocation of the public money funds towards key areas. "It will allow us to develop the product further and gain more validations as preparation for the next round of investors talks and fundraising." 
YoniCore's Time With Vision Health Pioneers Incubator
Yair shares how their time, when they were named hers, in the Vision Health Pioneers Incubator helped prepare them for their overall journey. "It was almost a learning programme – we participated in many workshops. We were able to figure out all the health care issues we needed to deal with and came away from it with the ability to form our idea into a business model and plan."
The team took part in the inaugural Vision Health Pioneers Incubator Demo Day.
"At our Demo Day in November 2020 it was another great milestone to reach. We were able to recap all the hard work we did and find the right way to communicate it. Our pitch was filmed and we still use that video today. It shows us and those in our network where we have been and where we are today."
Yair also shares how the knowledge learnt through the Vision Health Pioneers Incubator has been of great support, even when this meant revisiting his notes. "We learnt how the German healthcare system worked and how to bring a medical product to market. At the time some parts felt theoretical and overwhelming. But now I can go back to my original notes and put those ideas into practice or re-tune something. After more than a year working on the project, we are gaining more hands-on experience and so we can match this with the theory. Slowly we are becoming experts in our field."
Since Incubation with Vision Health Pioneers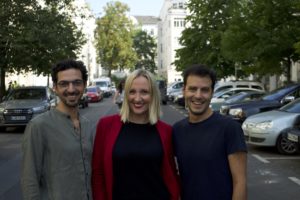 The time after the incubator with Vision Health Pioneers is key for all the startups. Yair recalls the conversations with investors that took place. "We had many talks and received feedback that the project and the team looked great, but that it was a little too early for them to invest. Now when we go into investor talks, we know what they need to know and would like to see." YoniCore have set themselves a goal to be ready for talks once more by the end of 2021. "We are using the time to gather more medical evidence and how the treatment we offer from a medical point of view is needed." Yair is confident there is a high demand of women who need and would purchase their product. Now they are making sure they have the evidence for investor conversations. 
Between the end of the incubator and the start of this grant, Yair and co have been taking part in other programs. "Tech4Ever, the mentoring programme, is specifically focused on women's health and femtech so ideal for us. Another is Life Science Track which has been useful to analyze the user journey and requirements for quality management and the Medical Device Regulation (MDR)." Yair says. 
The team is now hard at work with developing their product further. "The opportunity we have with the University and the lab is to develop the product further. The difference for the other programs is that with the EXIST Business Startup Grant we have a budget for materials and services. This is  important when you develop a hardware solution. Now we have the possibility to get our product to work as we imagine it. After this we could test it and we'll know what our minimum viable product (MVP) looks like. Then we can go through the CE certification and compliance  to the MDR." 
The YoniCore Product 
The unique aspect of YoniCore's smart connected medical device is how it treats pelvic floor dysfunctions. The individualized treatment is the only treatment that offers end-to-end relief with a long-term training programme within their app. Other products in the market provide either physical support and immediate treatment of symptoms, or pelvic floor training. YoniCore has a holistic approach that takes care of these women from all aspects and allow them to get more control with less visits to the doctor. Their focus is not just on the plain medical aspects but on the whole experience and taking into consideration the emotions and busy life of the women they are approaching.