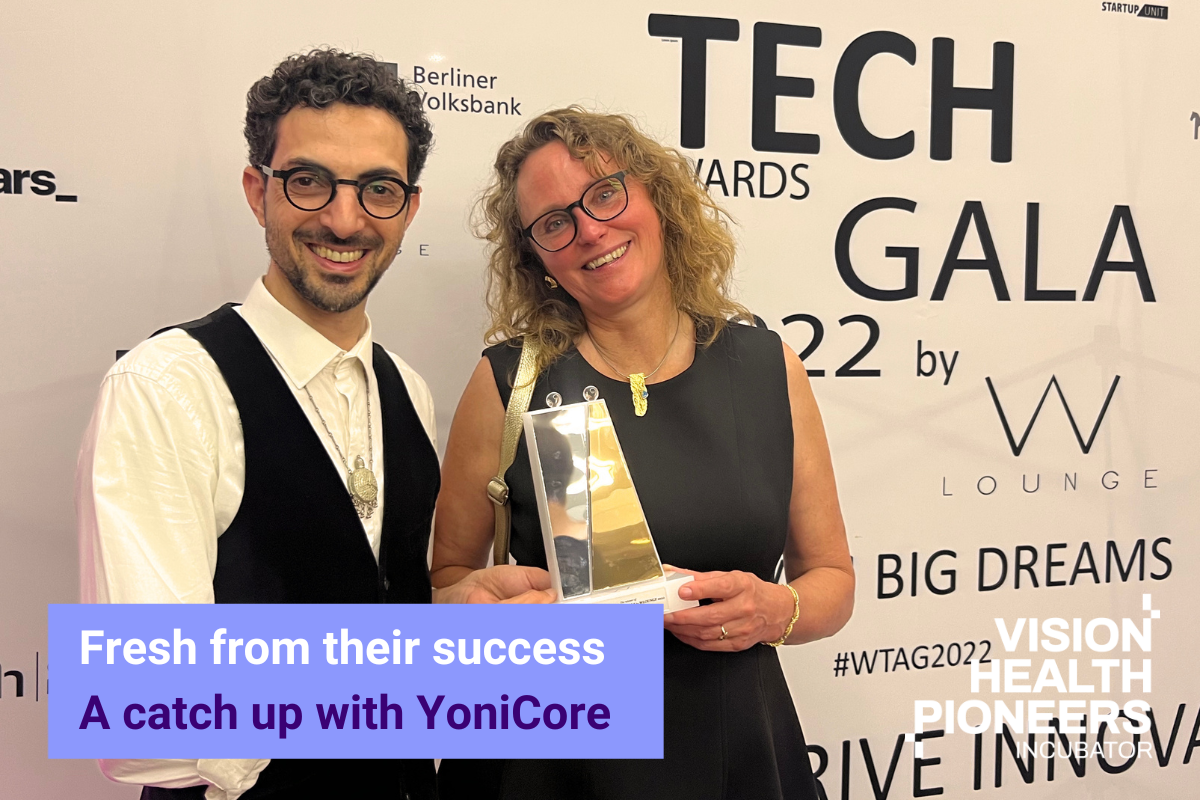 04 Nov

Startup incubators and hardware medical devices – A catch up with YoniCore

Fresh from their success at winning the first prize for Diversity at the Tech Awards Gala 2022, we sat down with Yair Kira, Co-Founder of YoniCore to hear all about their excitement since completing the Vision Health Pioneers Incubator program. As one of the founding teams and part of the very first cohort, Yair provides very interesting nuggets of information about the life of a healthcare startup founder following a program such as ours. Enjoy this dive in to what Yair calls only the beginning!

But before we go into the update, a recap on YoniCore's medical device. Their team offers women bladder support with just one press of a button. The inflated device is personalized to fit each woman and her unique pelvic floor. YoniCore is the only complete treatment, offering immediate relief of the symptoms together with long-lasting muscle training over an app. YoniCore's home solution disrupts the market by empowering and shifting control to women's hands and reducing visits to the gynecologist. 50% of women will experience pelvic floor dysfunctions during their lifetime, and YoniCore commits to women and people with vaginas inclusively, whether they identify as female, male, or non-binary.

Yair describes what has been happening recently. "We finished the EXIST program this summer after applying with BHT – Berlin Hochschule für Technik und Wirtschaft Berlin. With grant funds, we were able to develop our prototype, but more importantly, we were able to build the foundation to develop our device further." The startup is positioned as a personalized FemTech solution for pelvic floor dysfunctions. 

During their time in the EXIST program, YoniCore incorporated, an experience which Yair describes as an interesting challenge. "I'm now the CEO, which is great, but I have to deal with other things beyond building our product and helping women. Accounting, taxes, and long legal documents – are not what give me the kick in my work, however, they are important when building a business. I bundle these activities in a way that it doesn't become overwhelming. The German systems are often quite different from where I grew up, Israel!" Yair jokes when describing how he has had to change his mindset on approaching certain challenges. "As an innovator, you want to move so fast, and that isn't always possible. Often the logic in the German healthcare system is that everything has to be planned in advance. This is very different from startups! We can plan as much as possible in advance, but things will keep changing along the way." 
Winning at the Tech Awards Gala by WLOUNGE
Winning the top prize for Diversity at the recent Tech Awards Gala by WLOUNGE in September 2022 isn't the only success for YoniCore recently. They also won first place for the Digital Award and prize money from the City of Leipzig in a pitch competition this summer. This balance of programs and awards means YoniCore is finding validation for the need and the solution when placed against other innovations. Their next challenge is taking part in the EVolution event in Munich, which is organized by the hygiene company Essity. In a three day workshop they will explore ways for mutual cooperation between corporates and startups. YoniCore is also working in the coming semester with the students of Human Factors at TU Berlin to research further the market and potential users.
Looking back on Vision Health Pioneers Incubator
Yair shares his experiences developing a medical device in a Berlin healthcare incubator. "This is where we learned certain terminology for the first time and grew our understanding of medical systems. We were given insights into the space we were targeting." Yair looks back on his time in Vision Health Pioneers Incubator with fondness.
He goes on to explain that they actually pivoted their solution during their time in the 11-month program, which helped them hone their service and product offering. The greatest challenge that YoniCore has faced so far, is appreciating the differences between developing medical hardware and software. Yair likens it to two different worlds.
For startups currently in the incubator, they may be interested to see what happens to a startup between programs. EXIST ran from July 2021 to June 2022, and YoniCore completed Vision Health Pioneers Incubator in January 2021. Yair shares openly, "We kept working, and some of us in the team worked part-time, and others worked in other companies. You have to make a living, but you also need to believe enough in your idea to not give up. The team went through changes, which is natural, and it was of course challenging. When a program ends, and you don't secure investment, you have to be smart. Not everyone has the luxury of their own means" Yair is now focused on the fundraising aspect and hopes that with a working prototype, this should generate interest. We are lucky enough to add an important partner to our Founding team. Rachel Ravens has joined the team to add her experience and credibility in bringing healthcare solutions to the market.
Yair is still connected with the other teams from the first cohort of Vision Health Pioneers Incubator. "We catch up every now and again. We feel very comfortable reaching out to each other when we have questions. Some are more advanced and are happy to share their experiences. It's like having a friend that has already been there and can give you hints! I'm also still in contact with some of the mentors from the program – they have been very responsive and helpful."
YoniCore's Working Prototype
This success is what Yair strongly believes investors want to see, clinical evidence from the prototypes. However, sample size matters – "In other words, they want data collected systematically by means of a clinical trial. This means we need to go through an ethic community, and it actually creates a chicken and egg loop – investors want more evidence, we need more resources to provide this evidence. But rest assured, we are figuring out how to solve this."
YoniCore is looking to raise a seed round in order to complete their validations. Yair explains in more detail, "Both medical and market validations are required to build a small community, launch an MVP of our app, and scale our prototype for validation with strategic partnerships."
"We have a working prototype which acts as our first medical evidence and therefore proof of concept – It is our biggest achievement. We built an inflatable silicon device that inflates to the size recommended by our gynecologists. The women who used our device were so happy to see immediate results." Yair is clearly delighted to see these results. The device inflates to the point where it provides the necessary support to withstand a urinary stress test, where patients are asked to cough – and the device stops the leaking. 
"It didn't work with a very early stage prototype, it didn't inflate to the desired goal we had in mind. So we had to change some parameters, but this time it wasn't just a theoretical conversation like we had before when we didn't have almost any resources. Now we could take that feedback, make a set of experiments, and build an improved model. When it worked, it was so gratifying." 
"We are dealing with something very important, women's health. There's a long way to go and we still need to do a lot. We believe it is essential that we are part of the pioneers shifting healthcare in a way that is free for all genders. Our focus is on the patient and not the doctor or the system. Sometimes the patient's need is more than physical – there's a mental health component to consider for a person's wellbeing. We believe in building a solution that addresses mental and physical together. As a man in this space, I have learned what women suffer in silence due to societal taboos. We need to break taboos when it comes to their needs. I grew up believing that women's topics were not for men to know or discuss – that is changing. This is important for all genders. We are all here because our mom went through a pregnancy – where's the appreciation? My generation wants to change the status quo and make these topics both visible and clear." These are strong words from Yair Kira, and we continue to wish team YoniCore the very best for their future endeavors.