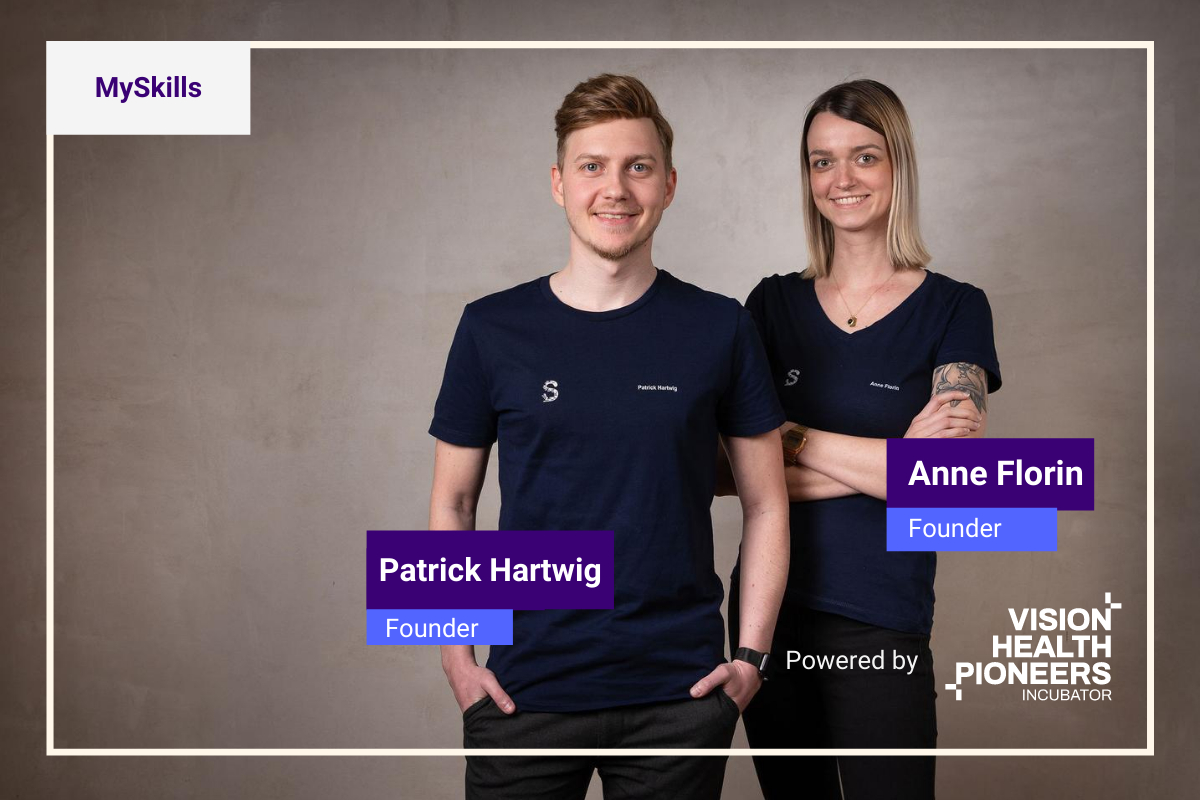 03 Dec

Smart support in your back pocket: How MySkills are revolutionising treatment for borderline personality disorder

Anne Florin and Patrick Hartwig created MySkills, a digital solution helping borderline patients cope with everyday challenges and crises common to the personality disorder that affects over a million people in Germany today and which is characterised by impulsiveness, instability of emotions and mood, identity and interpersonal relationships.

Part of the first batch of Vision Health Pioneers entrepreneurs, the pair spoke to us about their mission to support borderline patients and the therapists treating them. Have a look at their answers to our questions:

How did the idea to set up MySkills come about?

Anne Florin: I am a therapist for social professions, specialised in dialectical behavioural therapy who has worked with people with borderline personality disorder for six years. I have led skill groups and witnessed many patients suffer each day with challenges that come with the disorder. Currently, patients are supported by being handed many thick skills manuals and a lot of paperwork, which is often impractical in everyday life. Besides, in moments of high stress, patients often can't remember the exercises they need to do. So, I thought that a digital solution could help, and many people I spoke to who specialise in the subject agreed. Patrick is a UX/UI designer, and when I told him about my idea, he was immediately enthusiastic.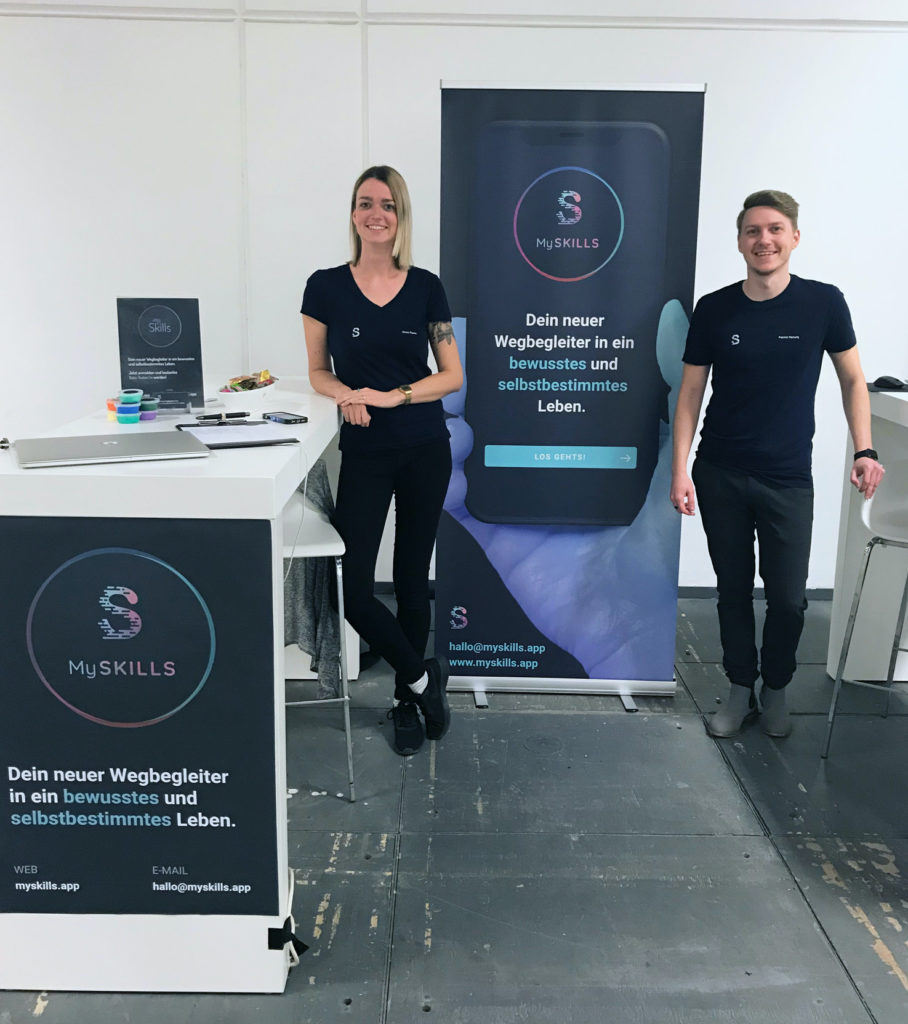 Please tell us a little bit more about borderline personality disorder and how it manifests in patients?
Anne Florin: Unfortunately, the disorder, which is often associated with self-harm and problematic interpersonal behavior, is highly stigmatized. The truth is that borderline personality disorder affects its sufferers in very different ways.
People with this disorder have emotional reactions that are on average nine times stronger than what is commonly experienced, and take a lot longer to return to their initial emotional level. 85 percent of sufferers self-harm in some way (whether that is cutting, burning, having eating fits, threatening with suicide or engaging in risky behaviour). The suicide rate for the disorder is at 5 to 10 percent, with suicide attempts at around 60 percent of sufferers. Those with the disorder tend to have strong states of tension throughout the day.
Approximately 80 percent of people affected by BPD receive psychiatric or psychotherapeutic treatment. The chance of a complete cure of the borderline disorder is relatively small. The earlier and the more intense the outbreak of the disorder, the lower the probability of a cure. The gender distribution is 50 percent women and 50 percent men, with women receiving treatment significantly more often.
It must be said that the disorder manifests differently in everyone, so it is often difficult to make a diagnosis. Not everyone with BPD hurts themselves or is impulsive. Others instead feel an inner emptiness and withdraw.
What relevant background/ experience do you bring to this project?
Anne Florin: Patrick Hartwig has ten years of professional experience as a UX/UI designer and design-lead. A passionate product designer, he enjoys creating positive professional experiences, and in this case can apply his knowledge to developing a sustainable, appealing, user-centered and useful product. In my case, having worked for six years on a certified DBT ward with people with Borderline Personality Disorder, I know all about the challenges that come with the disorder, alongside what treatment helps on a day-to-day basis.
Patrick and I work with a network of experts who continuously check our content to ensure its quality, including a data protection officer, various DBT therapists, the Borderline Network, a professor, and the patients themselves. They support us in helping validate and further develop our product, while sharing valuable insights from their everyday life with us. The president of the DBT umbrella organization, Christian Stiglmayr, is an incredibly experienced advocate and partner for MySkills whose support we are very grateful for.
How exactly does MySkills work, and what does the app offer its users that is not otherwise available? 
Anne Florin: In Germany, about 1.4 million people are affected by borderline personality disorder. They usually have to wait for three to nine months to get treatment. They are often quite alone and lack the strategies needed to manage their disorder. In times of high stress, they struggle to remember skills that can help mitigate their tension, and so resort to the familiar coping mechanism that is self-injury.
This is precisely where MySkills comes in: MySkills is the digital extension of the widely used dialectical behavioral therapy, which has the highest evidence level in treating borderline personality disorder and is the most common procedure in Germany. It's an always-available mobile digital companion which interactively, intelligently, and individually supports the patient in implementing their therapy more effectively in everyday life.
The app currently includes over 150 exercises (Skills), analysis, educational content, and so much more. We support those affected in overcoming their problems by replacing their harmful behavior patterns with new healthy strategies.
Who is the MySkills target market and what are the steps ahead?
Anne Florin: The MySkills App is for people diagnosed with a borderline personality disorder. Next year, MySkills will become a prescription-only digital health application (DiGA) for doctors, therapists, and health insurance companies throughout Germany. This is currently possible with the new Digital Health Care Act. For now MySkills is only for the German market. We do not exclude the possibility of the other markets.
How has it been like working with Vision Health Pioneers?
Anne Florin: The Vision Health Pioneers Incubator program is the best thing that could have happened to us. Before this, we were both working full-time in our other jobs while developing MySkills on the side. Thanks to Vision Health Pioneers, we were finally able to work full-time on this. That was a big step for us. Vision Health Pioneers has an incredible number of great mentors who have supported us. It's incredibly helpful to be able to interact with all of them and to develop yourself further. I used to work in a clinic, so everything was new to me. I was able to learn many relevant topics here – that was incredibly exciting. We owe a lot to Vision Health Pioneers, mostly in being able to turn an idea into a business. There were ups and downs, but the learning process was enormous. We really can only recommend that everyone goes through this program.