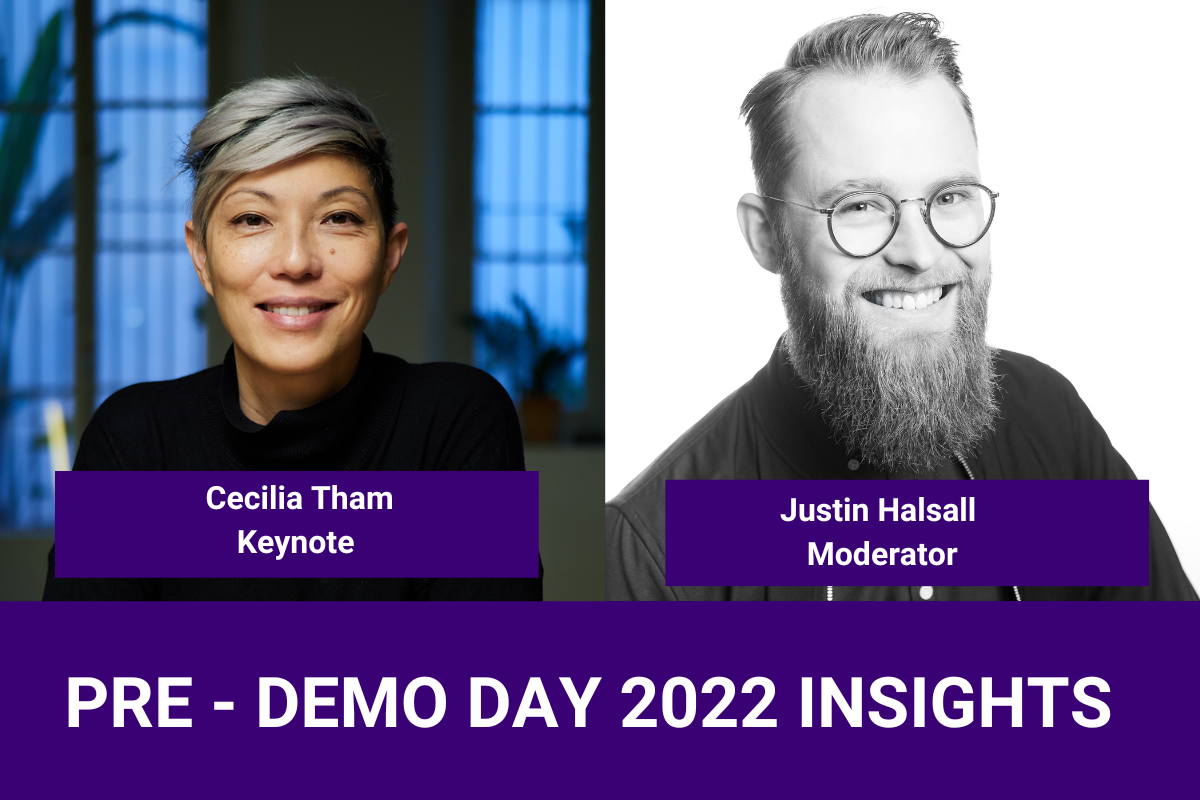 16 Oct

Pre-Demo Day Insights From Our Speakers!

With Demo Day 2022 only days away, we caught up with our super speakers to find out more about their thoughts and what they are looking forward to the most at our big event on Wednesday October 19 from 3pm CEST. With futurist Cecilia Tham providing the keynote and leading master-of-ceremonies Justin Halsall (yes! our very first Demo Day in 2022) we are set for a thrilling day. Not got your ticket yet? Head over to our Eventbrite and join us!
Cecilia Tham
Bringing the very lastest in future thinking, Founder & Director of Futurity Systems Cecilia Tham is presenting the keynote for this years Demo Day! As well as creating the future, Cecilia is at the forefront of innovation and disruption and will showcase how the world of healthcare is in for a very exciting future!
We asked Cecilia for insights in advance of Demo Day 2022!:
What excites you most about the future?
I think the most exciting thing is that we are having more and more tools to navigate and be proactive about building futures. The trends of democratization of technology from AI to Quantum as well as the web3 distributed transition of our new web paradigm both could be a very promising evolution towards a better future. And these tools will be more and more in the hands of builders like the startups at Vision Health Pioneers Incubator.
What role does healthcare play when building the future?
From quality of life to equality and equity of healthcare access, undeniably healthcare is one of the basic elements that are fundamental to our wellbeing. It is crucial and determinant because from a human perspective, it affects the future more than climate, energy, food, water, and even war because in addition to affecting all of those, it affects who gets to see the future, and how long those of us who are here gets to see the future.
What are you most looking to at the Vision Health Pioneers Incubator Demo Day 2022?
I am excited to learn more about what all the participants at Vision Health Pioneers Incubator have built, above all their missions, and how they are going about solving those challenges in healthcare.
How can people find out more about what you're doing?
Both Mark, my cofounder, and I are very active speakers, and we speak often about our work all over the world. We also have recently been honored by Fast Company Innovation by Design for our work. We have also shared some of our non-client work on our website www.futurity.systems.
It was also a pleasure to catch up with Justin for his thoughts:
Justin Halsall
Moderating the entire Demo Day is the one and only Justin Halsall. The startup founder, software engineer and master of ceremonies holds an all round charming personality and was the moderator for the very first Vision Health Pioneers Incubator Demo Day! With his life long passion for technology and development, Justin will be there to guide you through the session.
What excites you most about the future of healthcare?
With so much data being produced I'm really looking forward to the patient being able to own their own data and use it as they'd like. Being able to plug in your own data into new algorithms, or being able to monitor your conditions on wearable devices is going to open up a world of possibilities.
What are your memories from last time?
Last time I was blown away by the high quality of startups. In their pitches it was really clear they where all working to solve super relevant problems. It was also great to hear the heart felt personal stories that became the catalyst for why they started their companies.
What are you looking forward to at Demo Day 2022?
I can't wait to see what exciting problems the startups are working on this year. I'm fully expecting to be blown away again!
How can people find out more about what you're doing?
The best way to learn how a product works is by watching a video!
But making these videos is surprisingly hard and time consuming. With https://RecordOnce.com I'm removing the last big hurdles and making it even easier to explain with video than text.
Meet Cecilia and Justin at Demo Day 2022 on October 19 and discover the innovative healthcare startups who are presenting their solutions live from the stage in Berlin. Tickets are available here – we look forward to seeing you there!