04 Feb

My Paramedic: Spotlight on the Startup Offering At-Home Digital Personalised Cadiotherapy

What do you get when you combine a software developer and part-time programmer, an emergency medicine professional and an innovative idea?

The answer is My Paramedic – but the early-stage startup didn't come out of nowhere.

Founded in Belarus by husband-and-wife team Dmitry Solovyov, CEO, and Olga Solovyova, CMO – along with software developer and CTO Denis Moskalev – the company has created a mobile solution that helps people recover from a heart attack at home.

You might think of it as an intelligent pocket cardiotherapy assistant.
Reducing Long-Term Risk with At-Home DIGITAL PERSONALIZED CARDIOTHERAPY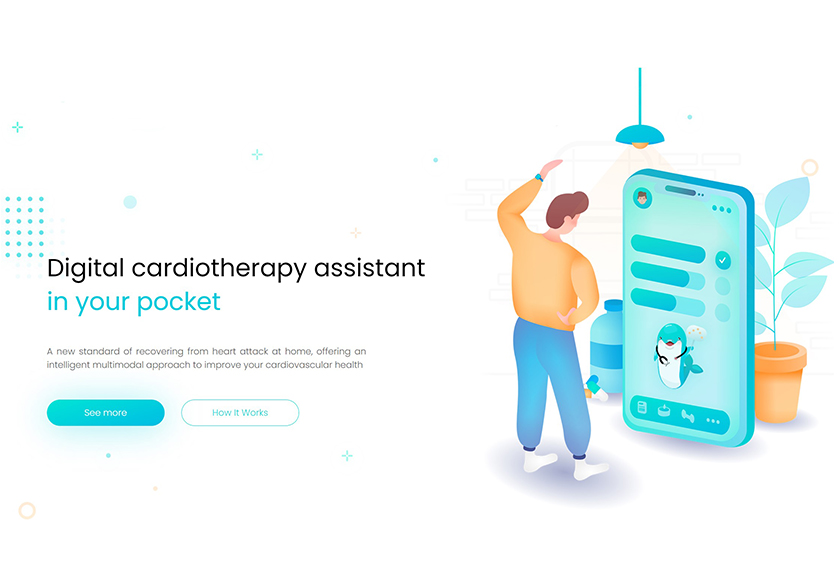 In addition to facilitating recovery, My Paramedic motivates people to maintain their health balance and reduce their risk of experiencing an additional cardiac event.
Rooted in technology, users perform physical exercises by playing an interactive game. The built-in AI monitors each patient's condition by asking a few questions and reading their vital signs through smart wearable devices – and then analysing data throughout this process like a real doctor usually does.
"We're not a rehabilitation app," clarifies Solovyov. "My Paramedic is a mobile app that provides personalized cardiac therapy and support for patients at home."
The app isn't a telemedicine platform, nor is it meant to substitute doctors, medical treatments or prescription drugs. Rather, My Paramedic offers digital therapeutics. Patients can use the product between doctor's appointments and adhere to the therapies if they experience specific symptoms. It's also ideal for those in search of additional cardiac treatment rehabilitation, or a post-rehabilitation model.
"We are more like a digital assistant with digital therapy," the startup's CEO explains. "Our mobile app supports and motivates users during the whole process, and we focus on personalization."
With all the content based on clinically-backed German cardio guidelines, the app can either integrate with the user's wearable devices or address the individual's needs based on information they input themselves.
"If the user doesn't have, or doesn't want to use their device, the mobile app will ask a few more questions and make a decision on how to update the individual therapy plan," says Solovyov.
The benefits of cardiac rehab and post-rehabilitation are expansive:
Patients are 40% less likely to experience a repeat cardiovascular event.
They are 25% less likely to die as a result of a cardiovascular event.
There is a 38% to 53% increase in patients' rate of return to work, with an overall cost savings of $12,000 per person.
A compelling part of the app is that users don't have to complete the exercises alone. My Paramedic is home to a personal digital assistant named Hearty, who is available on the mobile app to help people achieve their goals, earn rewards and leverage the support of their community.
"We believe that therapy must be intelligent," says Solovyov. "It doesn't have to be boring, and our product doesn't change your past – but it can improve your future."
Startups and the Power of Pivoting
The idea for My Paramedic came from the CEO's background as an EMT. From Monday through Friday, he worked as a software engineer – and on weekends, he was a paramedic assistant.
That was how he met Olga Solovyova, a paramedic and his boss on occasion. In their native Belarus, paramedics can make decisions just like any doctor. When, one day, their colleague felt unwell and worried she could lose consciousness, Solovyov had an idea: Wouldn't it be great to call an ambulance automatically, based on a person's vital signs, to save time?
This was the initial concept of My Paramedic. However, a number of barriers forced the team to pivot. All the software and hardware components of the platform, they learned, would have to be medically-certified. (The smart watches and fitness trackers they hoped to use didn't have the certifications they needed, which was the first setback they faced.)
When additional legal risks came to light, they switched gears entirely – and the three cofounders decided to focus on recovery from heart attack and the digitalization of cardiac therapies.
"We kept almost everything from our MVP," says Solovyov. Yet pivoting proved challenging in many ways.
"It was hard to take one step back and do the same job again [with a different focus]," admits the CEO. "I would say we lost a bit of our motivation, but we did it."
They often repeat one famous phrase to remain driven during the most uncertain times. The translation is: Rise and rise again until lambs become lions.
Cultural Adaptation: From Belarus to Germany
Initially, Solovyov admits My Paramedic started just for fun.
"We wanted to do something useful for people," he explains. "Medicine was my hobby. Programming was my profession, and I decided to create some symbiosis of medicine with IT."
Though relocating from Belarus to Berlin marked a significant change, the cofounders were ready for it.
"Many years ago, Dmitry [Solovyov] shared with me his thoughts that he wanted to create an application that will help people," says Solovyova. "I looked at him and said, 'Are you crazy? How is it possible to measure a pulse with your bracelet or watch?' But I realized that yes, actually, we can do something interesting."
Today they reside in Berlin and are eager to settle in their new environment. They are finding Germans to be more open than their Belarussian counterparts – but less generous with their time, because people's schedules seem to be fuller than in Eastern Europe.
The lifestyle is faster-paced here in Berlin, no doubt – but perhaps this is exactly what My Paramedic needs to bring its product to fruition. Moving forward in 2021, the cofounders hope to register their company as a legal entity, begin working towards their 650,000-Euro investment goal and prepare their product for beta-testing.
They also plan on staying in Berlin. "We already got a residence permit," says Solovyov. And over the next three years, the My Paramedic team hopes to launch their product in Germany – implementing a sound reimbursement strategy and capturing 10% or even 15% of the market.
Strength in Numbers with Vision Health Pioneers
The My Paramedic cofounders claim they've had an empowering and informative experience in the Vision Health Pioneers incubator.
"VHP is about people who want to change the world with you," says Solovyova. "We got more than just support. We appreciate every person who shared their experience and knowledge with us."
It's also worth noting that the experiential aspects of the incubator – pre-COVID-19, of course – alleviated the stress involved in building a company from scratch. From team-building barbecues to kayaking excursions, these elements played a crucial role in the team's transition to life in Germany.
In addition, Solovyov claims Vision Health Pioneers gave him the tools he needed to start thinking like a businessperson.
"It's the main benefit that I got from here," says My Paramedic's CEO. "And this factor affected me, our team and our product – and as I've mentioned, it's forced us to take a step back to avoid potentially more serious mistakes."
While roadblocks and other challenges cause stress, they're better addressed early on in the startup game than several years down the road. Yes, My Paramedic has pivoted – but the young company is now on a path from which all parties can benefit. The platform offers an enticing approach to at-home cardiac rehab users won't want to miss.