04 May

Mentor Johannes Steger on being present and owning your story

Johannes Steger is principal consultant and the current head honcho of communications at Plan D, a young technology and strategy consultancy actively shaping the face and experience of digitisation in the modern world, Plan D is Vision Health Pioneers' most recent partner to come on board.

At ease in their spacious, industrial loft-style offices, Johannes is candid about the incredible journey of his career that has taken him from the buzzing tech startup scene of Tel Aviv as a journalist, to where he is today in Berlin. Despite having worked for many years as a tech journalist, Johannes humbly admits that his present role working with coding, engineers and data scientists has made him realise he knows nothing. That for him is an exciting revelation that he embraces as an opportunity to push himself out of his comfort zone. With this effortless capacity to step up to a challenge and an enthusiasm for all things tech, Johannes is a long-time champion of the startup community.

For him, startup culture poses as a powerful interrupter and driver of industry diversity.

The capacity of startup culture to birth forward-thinking founders and level the playing field through greater gender representation, is one that that he believes, "ultimately drives a country and the whole of Europe."
On Mentorship and Giving Back
"I think everyone who works in this ecosystem has the obligation to do something good. We all profit from this great Berlin ecosystem but living this startup life and being in this ecosystem comes with the obligation of giving something back."
As a mentor at Vision Health Pioneers, Johannes has facilitated workshops on vision, stakeholders and messaging. He has also contributed his time and presence facilitating the recent Batch #2 pitch event. For Johannes, his involvement with Vision Health Pioneers is not just an extension of his love for technology and his belief in the integral role technology and data has and will come to play in the health industry. Rather, as a participant of the Berlin startup ecosystem, it is his commitment to building up and enabling others to drive the ecosystem further. As a natural visionary, there is a bigger picture and greater good that he is working towards in his guidance and mentorship of new startups.
"Vision Health Pioneers incubator is not only diverse by way of culture, but also the various solutions the startups bring to health. It is amazing that there is an incubator giving power and room for ideas that are finally bringing attention to stigmatised topics such as mental health and female intimate health".
On Visibility, Being Present and Stakeholder Management
When it comes to networking, visibility and messaging, Johannes does not sugar coat the importance it plays for early startups. However, his core take-home message is simple: concern yourself with the needs of others, not just yourself. "Visibility can also mean being in an audience and listening. Being present, listening, learning and not necessarily always engaging. Just be there and learn. It is not always about talking and present by way of 'presenting' yourself but 'present and listening'. This for me is essential for networking and visibility".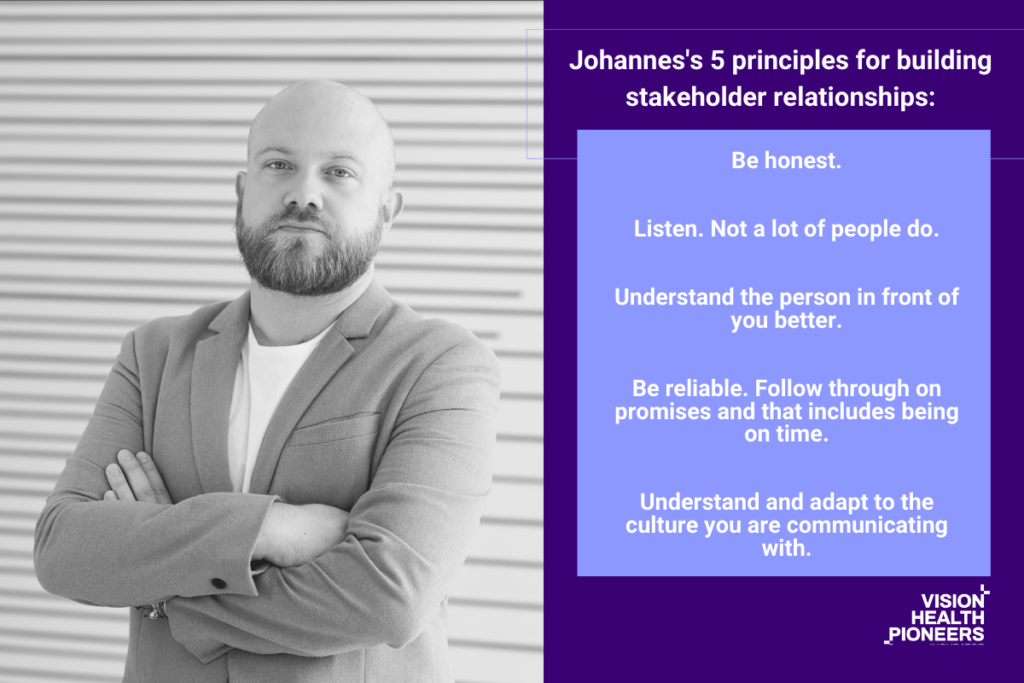 On Purpose, Messaging and Owning Your Story
There is a commitment to truth and integrity that Johannes stresses must be upheld from purpose through to the messages that are conveyed, particularly within the healthcare industry. Here, he is quick to draw the distinction between up-selling pizza and healthcare solutions. While there is an end-user in both instances, when it comes to health, it is important to bear in mind that a life is dependent on it.
"In communicating something about your product, you have to be very sure what you say and promise. Don't promise anything you cannot keep, because even if the consequences of embellishment or false promise are not deadly, it is a pain that a person at the other end is feeling, be it a mental pain or a physical one".
With regards to purpose, it is important for healthcare startups to not be solely profit-driven, but to be clear on what drives the innovation.
"With Vision Health Pioneers Incubator, every founder seems to have a personal relationship to the product they are building. When guiding the teams, I often tell them to use their personal story in their communications. It does not only have to be 'I am suffering', but it could also be, 'I saw someone else's suffering."
At the recent Pitch event, his guidance was evidenced in the stories put forth by the young startups. Beyond open and honest, this authentic voice that Johannes encourages in communication is a bold declaration that gives a voice to invisible and stigmatised issues in healthcare. Putting these stories out there not only fosters connection. It holds the immense power to create dialogue, give hope and forge role models and leaders out of an idea born from one person's story.