20 Jul

Insights after our program -Interview with alumni startup Breaz

Our alumni is made up of a special collection of innovating healthcare teams. These entrepreneurs learn, grow and develop with us and then spread their wings and continue to fly forwards, innovating healthcare. Amongst them is Breaz who have been on an exciting journey since completing our program late last year. Recently with caught up with James Hugall, PhD, Co-founder, CEO and Petra Stockinger, PhD Co-founder, CSO to find out more about how they have grown. Explore below how numerous programs have supported the team, their exciting partnership with a hospital and their thoughts as they look back on their time in the incubator.
How has Breaz developed since completing the program at VHP?
After returning to Barcelona last autumn, a lot has happened. Our team expanded and Mechanical Engineer Rodolfo Plaza Herz, a 3D printing expert from Hewlett Packard, joined us. We are now using the large office space of MediaTIC incubator in the centre of Barcelona (in Poble Nou). This incubator hosts young tech startups for up to three years. We are surrounded by companies focused on health, drug discovery, production of alternative food supplements and even 3D rocket production. We are surrounded by experts in AI, engineering, 3D printing, business, drug discovery, health, medical devices and much more.
We also have access to the prototyping space at Barcelona Activa and and use their services such as a UXLab. This access is free, high quality and helps us a lot. We entered the CIMTI Crida Innovacion program which provides support in topics such as technology, regulatory, clinical and business. The program supports us for two years, provides services worth 85,000 euros and offers visibility, particularly in Catalonia/Spain. For example James participated in a 3D printing webinar.
Recently we finished the Ship2B Startup Accelerator program. The focus here was on Health and Climate and prepares companies for becoming investment ready, particularly focusing on Impact Investors. There will be a final Demo Day in September, where we can present to investors. Elsewhere we participated in programs such as the GRIT International Female Accelerator Program, suggested by Vision Health Pioneers Incubator coach Aline Noizet) and the EIC Women Leadership Program.
What is the status now with your prototype?
The prototype is up and running and we have started the first lab testing of the core technology. We currently have two summer interns (Biomedical Engineering and Computer Science students) from UC Davis, who will help in device calibration and data processing and algorithm development. We hope to be able to obtain first data from healthy volunteers by the end of July.
How has collaborating with a hospital helped your business develop?
Having a hospital partner and particularly a medical professional on board as well as in the company is really important for fundraising (private and also public). We get quite a lot of questions and comments around that and it really creates trust and de-risks the project. We are also really benefiting from the network and the engagement of the doctor/hospital.
You are soon looking to fundraise, what do investors need to know?
An excellent team that has the motivation and the skills to make this happen. Investors do see potential in Breaz and with the help of the right experts either as advisors and later within our team, we believe that we can achieve our goals and create a successful product and company. We are a disruptive solution, that has great potential in different settings. We understand the complexity and the barriers of public healthcare as well as the potential for faster uptake in the private sector. Our solution concept is designed with different settings in mind and allows us to enter those markets to create initial market validation and traction.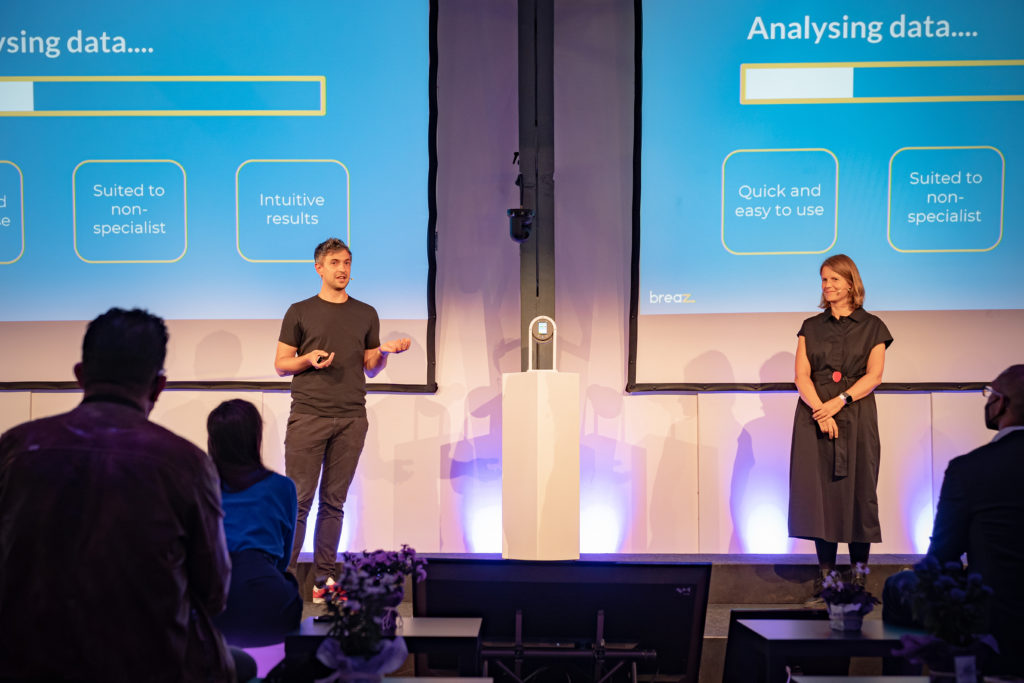 What experience in the Vision Health Pioneers Incubator stands out the most?
The program offered a great combination of lectures and workshops provided by industry experts as well as a fantastic network of mentors and advisors. The energy and support of the Vision Health Pioneers Incubator team and the onsite events were also great.
What do you believe has been your greatest learning from your time in the incubator?
Every project and company is different, you really need to work with local experts if you want to understand a healthcare system in a specific country.
What advice would you give to other entrepreneurs who want to develop a healthcare startup?
Identify a real need and keep validating that your solution really addresses that need. Work with people that share the same goal, but are different and complementary. Also have a proof of concept early on! Ideas are great, but most people want to see more.
We thanks James and Petra for their time and wish them continued success!