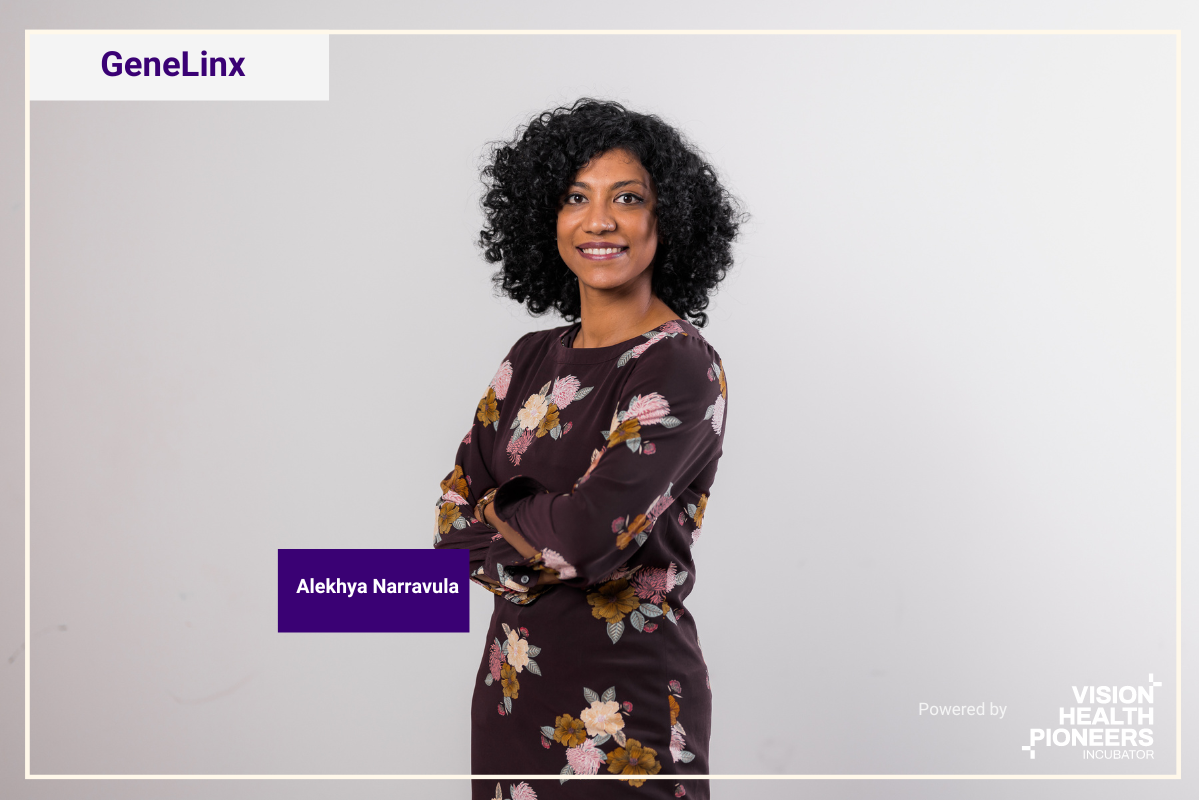 26 May

GeneLinx – Bringing Genetic Counseling into the Genomic Age

In 2023 it is quite well known that we are in the age of genomics, precision medicine and preventive care – a point in time where costs of genetic testing are decreasing and the knowledge to utilize genomic information to make better healthcare decisions is widely available.

However, the genetic expertise necessary to clinically utilize genetics is still lacking within the healthcare community. The average physician has limited expertise in applying genetic information within their specialty.

This is where GeneLinx comes in. Founded by Board-certified Genetic Counsellor Alekhya Narravula, the early-stage startup wants to increase access to personalized genetics care by guiding individuals and their physicians through the complex process of understanding genetic risks, identifying the most appropriate and clinically useful genetic tests and then utilizing the results so individuals can make informed health decisions that positively impact their life.

GeneLinx is building a genetics care delivery platform that works for individuals before and after their genetic test.

In this interview we meet with Alekhya and Operations Lead, Jordana Goldmann to explore how GeneLinx removes barriers to accessing genetic information and provides genetic education services.
GeneLinx – Bringing Genetic Counseling into the Genomic Age
Alekhya introduces GeneLinx saying, "We're simplifying genetic information so everyone can understand their genetic risks and act upon them." The startup assesses individuals risks based on family and personal history, helps identify the best test for an individual, educates them on the entire process, assesses the results if a test was requested and then supports the individual with what that result means for them and the specific actions to take next based on guidelines.
"Genetic information and results can have a huge impact upon the person and also upon their families when they receive their test results. This is part of the reason why it is important to offer this level of support before and after any form of genetic testing." Alekhya explains before adding, "We mainly support clinical genetic testing that can help change treatment or management, for example for hereditary cancer diseases or help couples and individuals make specific reproductive choices. However, we can also support those individuals who have had direct to consumer lifestyle testing to better understand their results and what to do next."
GeneLinx offers their service directly to individuals (B2C) who have a family or personal history of a genetic diseases or are healthy but curious about their health risks or for reproductive purposes. However, they believe that offering their platform through partners (B2B2C) such as hospitals, clinics, labs and employers who in turn would offer the service to their customers, clients and employees is key to increasing access to genetic information. Alekhya explains with an example, "If there is an oncology clinic that wants to start offering genetic services, but doesn't have the necessary expertise, cooperating with us can quickly help them incorporate genetics into their care pathway by gaining access to our platform, workflows and to our genetic experts."
Alekhya is a certified Genetic Counselor of the American Board of Genetic Counselors and is also a registered genetic counselor of the European Board of Medical Genetics, on whose Board she also serves as a member for the Genetic Counsellor branch. She shares her background and what led her to start GeneLinx. "I was interested in genetics and human diseases and it was an exciting time to be in the field with new technologies becoming available and translated into clinical use. 
However, I realized that my passion is people and education and hence I wanted to focus on explaining, informing and empowering individuals about genetic testing and risks. Seeing the need for better understanding on both the providers and individuals side, I wanted to make a difference by starting GeneLinx to improve access to genetics education."
Joining Vision Health Pioneers Incubator 
Alekhya shares the journey that led them to joining the program for early stage healthcare startups in Berlin. "It was right after the pandemic when I decided to work on the idea. In Europe, acceptance for telehealth increased post-pandemic and also in recent years there is more awareness around genetic diseases and risks. It was the right time. Joining Vision Health Pioneers Incubator for almost a year was ideal. Jordana then came on board and brought with her great experiences in setting up processes, working with patients and improving patient journeys."
Jordana Goldmann shares more on joining GeneLinx, "I was intrigued by the innovation taking place in healthcare and clearly now is the time for digital solutions. There is no one-size-fits-all solution, but we can look at different parts of the patient journey and apply individualized and personalized solutions. Genetics can be the key to providing precision medicine and I love the challenge of trying to build our startup from the ground up and apply this."
Jordana continues with her thoughts towards the program, "Vision Health Pioneers Incubator has an incredible network of experts who are really fantastic. They supported our startup with many of the issues we are confronted with setting up in the German healthcare system and all its complexity."
"The incubator gave us so many things we needed in the beginning." Alekhya adds. "Medical information is very sensitive and the legal and regulatory aspects are quite strict around it. As a young startup with zero funding, Vision Health Pioneers Incubator has been instrumental in helping us with their network of coaches and experts. It's encouraged us and their network has been so open and supporting."
"We want to enable every individual to utilize their genetic information and make informed decisions." Alekhya outlines, "Not only for those who live close to city centers or know about available tests because their doctor has informed them, but everyone. Those in rural areas and those whose doctors don't know so much about this field. We want to make genetic counseling a part of everyday healthcare."
Alekhya concludes, "Our partnerships with clinics, pharmaceutical organizations, laboratories and researchers will allow us to reach more individuals who could benefit from genetic testing in their care and treatment. We will offer a customizable solution of digital tools and virtual care that will allow access to our experienced genetic counselors, so that everyone can easily integrate genetics services into their workflows. We want to democratize access to personalized genetics care today."
Watch the recording of GeneLinx at Health. Human. Tech. Demo Day 2023.
Read our short interview with Alekhya about which humans or technology helped inspire the founding of GeneLinx.