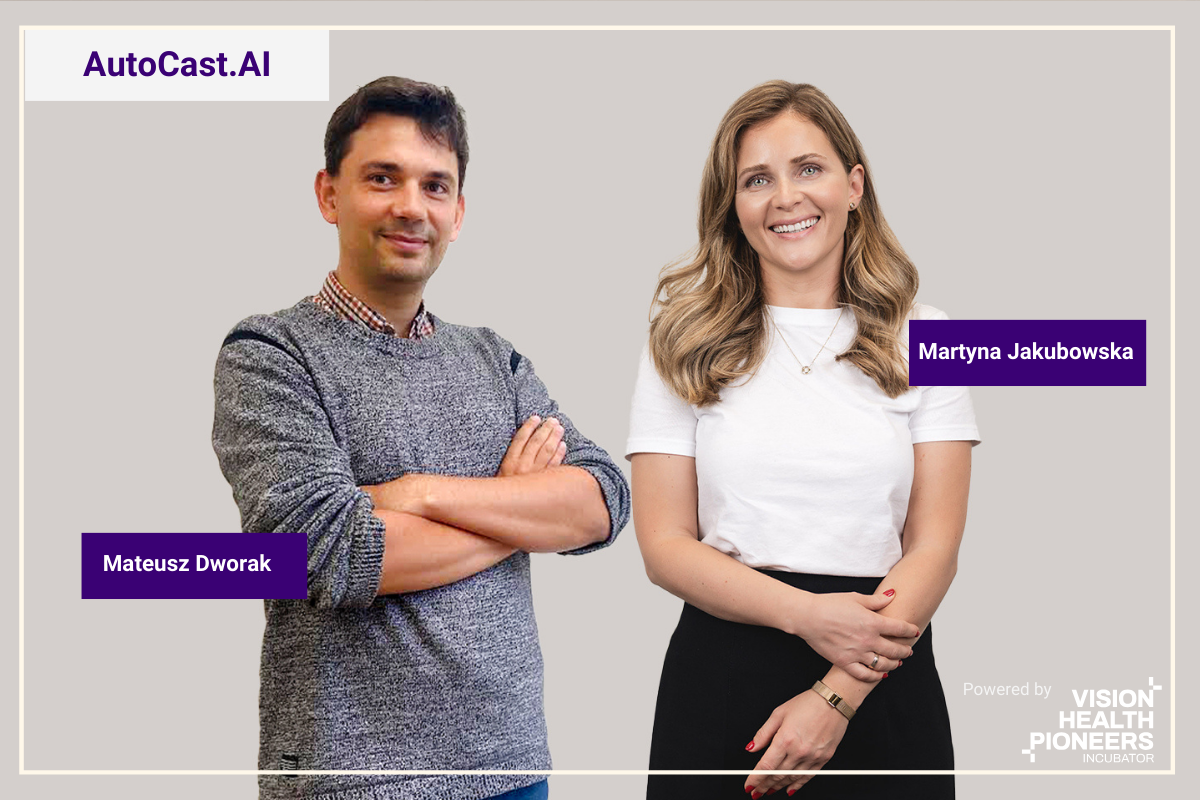 13 Nov

AutoCast.AI, the startup healing people with diabetic foot better and faster

November is National Diabetes Month, during which communities worldwide strive to raise awareness about diabetes. This year, the focus is on taking action to prevent complications related to the disease. One of them is diabetic foot, which is the infection, ulceration, or destruction of deep tissues of the foot including bones which affects 15-25% of patients.

The team from our current cohort, AutoCast.AI aspires to increase the efficiency of diabetic foot treatment. Their goal is to speed up the manufacturing process of Total Contact Cast by using 3D printing methods and software that recommends how the cast should be designed. In this interview, we explored the journey of AutoCast.AI co-founders and dived deep into their solution.
The Journey So Far
The real journey of innovation starts when like-minded and like-hearted people come together. Leaving your comfort zone to go right into the unknown – which for an entrepreneur sometimes equals the comfort and stability of a full-time job – is not an easy path one can easily walk alone.
For AutoCast.AI co-founders Martyna Jakubowska and Mateusz Dworak, the reason for venturing into the unknown lies in their shared goal to bring about real change in the healthcare system. Their journey started when their entrepreneurial spirits came together at an EIT Health Digital Medical Devices Summer School in Luxembourg and Spain.
Mateuzs decided to take on a different path while he was trying to choose his specialty after medical school. "During that time, I was engaged with a group of young doctors who were having debates with the Ministry of Health about the healthcare status in Poland, which made me realise how hard it was to impose an actual change within the system. That's why I pursued the EIT Health Summit advertisement on how to make a change in the system as an entrepreneur and eventually ended up meeting Martyna."
After medical school, Mateuzs started his first entrepreneurial endeavours in healthcare that did not end in success at the time. He started working at the Center of Innovation Technology Transfer in Poland, writing proposals for incubation and acceleration projects and helping healthcare startups validate their ideas. But as his co-founder Martyna describes him, "he has an entrepreneurial mindset himself".
Martyna tells her side of the story of how the idea took shape. "As a medical doctor, one of our co-founders, Konrad Jakubowski, saw the troubles within the current processes first-hand and wanted to improve the treatment of diabetic foot patients. But we only started to work on the idea last year, when I attended a course at the University of Technology in Warsaw, focusing on connecting data science and machine learning for managers. I wanted to present the idea as a project as I've seen a lot of opportunities for people who need help. After we met and decided to develop the solution together with Mateusz, applying to Vision Health Pioneers Incubator was a quick and obvious decision."
AutoCast.AI – improved healing and monitoring
"We understand that patients often struggle to find a doctor who can effectively treat foot ulcers. This is also compounded by long waiting times and a shortage of experts. As a result, patients are often given ready-made walkers or left without any treatment at all, leading to severe complications like amputations.
We aim to provide a more accessible solution. Our approach involves training technicians to use a leg scanner that analyzes data to produce a personalized orthosis. This orthosis or supportive device, is designed to fit perfectly to an individual's leg, enhancing the healing process.
Monitoring patient health is also a key aspect of our solution. We plan to install a sensor in the reusable orthosis to ensure the patient maintains the treatment. This is crucial for conditions like diabetic foot syndrome, where relieving foot pressure is vital for healing. Our ultimate goal is to automate this process using 3D printing and special software, offering a tailor-made solution for each patient. This will not only improve accuracy but also speed up the wound-healing process and reduce the risk of amputation.
Unlike current methods that require multiple medical professionals, our approach is more efficient. We aim to automate the entire process, including the production of the cast, saving both time and resources. Currently, the gold standard treatment requires two workers and knowledge of TCC (Total Contact Cast) application, making it less accessible. Our solution seeks to change that by better monitoring the health of patients, providing them with high quality, personalised medical service and automating the work of healthcare professionals."
On The Road to Validation
Today, the team sees that every small step they take is essential for their future success, and they seek further data and support to help carry their vision into patients' lives.
"At the moment, we have a chance to develop the idea during incubation. It's a great opportunity for us to have these mentors and coaches in different fields, helping us create the right path to realize our solution.
We're currently conducting qualitative research, actively seeking patients who can share their experiences during treatment. We want to confirm if our perspective aligns with theirs and uncover any new insights. We're also interested in engaging with healthcare providers and researchers involved in similar projects. They might offer valuable knowledge we haven't discovered yet or be interested in new topics we can provide for their publications. Our main goal is to enhance treatment methods and introduce innovative ideas to the healthcare field, which may be of interest to these researchers."
Connect on LinkedIn with AutoCast.AI co-founders Martyna Jakubowska and Mateusz Dworak.