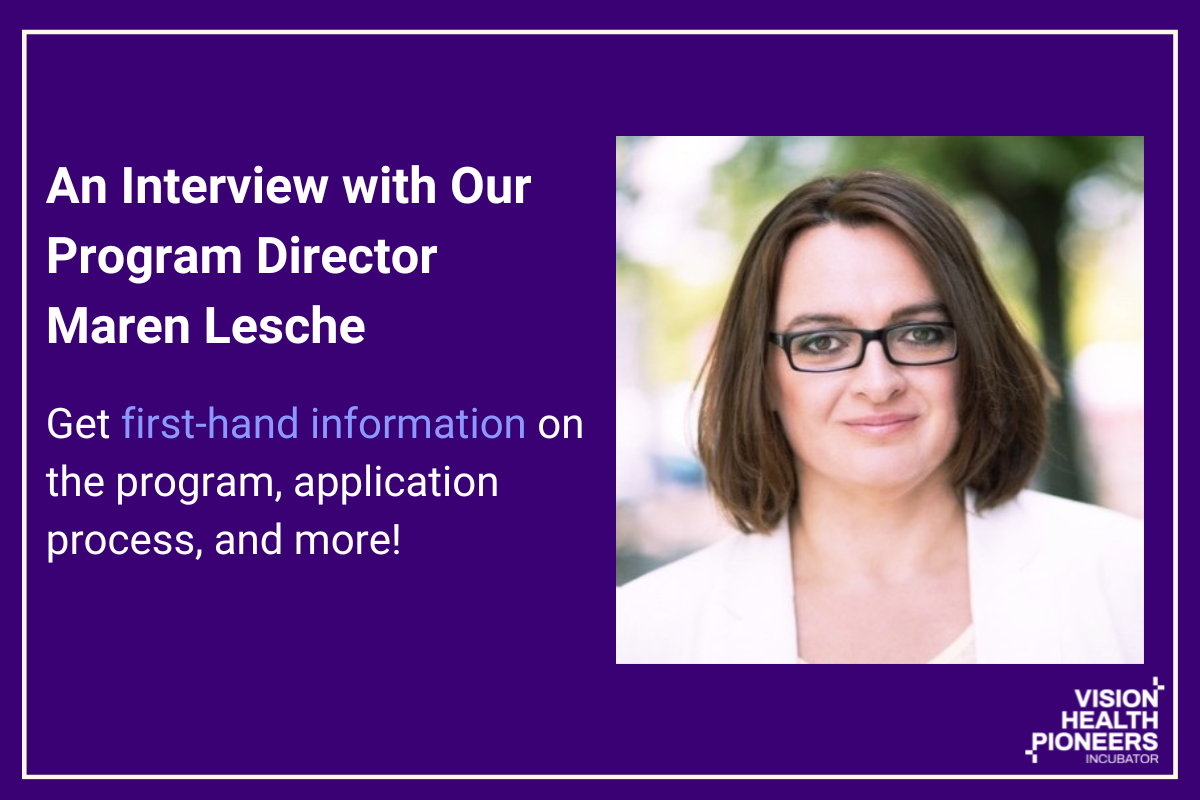 21 Jul

An interview with our program director: who are we looking for?

Our Program Director, Maren Lesche, recently shared key information on the program in an exclusive interview with Berlin Partner for Business and Technology. Keep reading to learn more about the story of our healthcare startup incubator, application process, and more!

Which ideas or personalities are you looking for?

Vision Health Pioneers Incubator is designed to support healthcare entrepreneurs. In our 9 months incubation program, we offer financial support and also special medical, business and tech coaching suitable for teams that want to work on medical devices and digital solutions that are patient-focussed, provide new ways of treatment and eventually improve the life of patients as well as caregivers.

We especially would love to allow healthcare professionals, such as doctors, physician assistants, nurses, therapists, and public health experts to tackle problems they encounter every day. Usually, teams enter with 2 to 3 entrepreneurs from mixed backgrounds, e.g., medical, tech, and business. Age, gender, or nationality is irrelevant to us. We are also open to international teams solving problems relevant to the German market. However, we look for very early-stage entrepreneurs. So ideally, the applicants are just getting started.

When can one apply for your program or when does the next batch start?

Entrepreneurs can apply online either for the current cohort that starts on September 1, 2023, or reach out to register for the next cohort already that will launch on July 1. 2024. If founders want to join on short notice on September 1, they must hurry up! Application ends officially on July 21. So they either apply via our application form asap https://visionhealthpioneers.de/application/ or reach out to my colleague Ben or me to have a conversation in the next two weeks.

How many teams/scholarship holders have you already accompanied on their way to founding?

24 teams received funding from Vision Health Pioneers Incubator so far. Among them are successful startups such as Nilo Health, Advosense, Yonicore, Physikit ore Skinuvita. In the next two cohorts, we will support 10 early-stage teams on the first steps of their startup journey.

What was your motivation for applying as an executing agency of the BSS?

We are entrepreneurs ourselves – we saw a problem and wanted to solve it. We designed Vision Health Pioneers by combining all elements we liked from other incubators worldwide and created an incubator we would love to attend. We applied for the BSS grant from the Senate of Berlin, fully knowing that our small innovation agency Startup Colors might have taken a bite too big to chew. But we were also fully aware that change does not happen when you remain in your comfort zone. So we dared, took a leap – like many of your incubators teams do – and did not regret it so far. Now, recruiting for our 6th cohort, we are much more comfortable in the role of executing agency.

What do you think is special about the Berlin BSS programme?

BSS supports super early-stage entrepreneurs with equity-free funding, free coworking, and lots of coaching that young founders would have to pay for, e.g., legal support and, in our case, coaching on medical device certification and reimbursement strategies. Since your incubator teams are not forced to incorporate immediately or give up valuable shares in their first startup steps, they can experiment longer, validate their problem-solution fit better, and grow stronger together as a team. We provide a sandbox without immediate financial pressure.

What do you consider to be the three most important criteria for a successful startup?

Founders have to show – or learn – resilience, dedication, and execution skills. I am mentoring startups worldwide and am an advisor for the SXSW startup pitch. I see many outstanding ideas that do not make it due to team issues.

According to which criteria do you evaluate? What is an absolute no-go?

We look into the problem-solution fit, evaluate the strength of the team and each team member's coachability, assess the need for the German market, and check the team's financial situation.

We usually decline teams that hop from incubator to incubator, from grant to grant. We also declined – or even diss-enrolled – founders that take our support for granted or do not appreciate the opportunities our coaches, mentors, and partners provide.

What was/are the best experience(s) from one of the last batches?

From a program point of view, we are always proud when our teams excel – when pitches are super strong, mentors and coaches give stellar feedback, investors request additional documents to assess investments, and teams feel confident enough to incorporate together. But in the end, the fact that many of the healthcare solutions we support are available for the treatment of patients or for the prevention of diseases is the best experience we can have.

Which people / faces are behind the BSS Team?

We are a team of five managing Vision Health Pioneers Incubator: Our Program & Community experts Ben Butler and Darja Kota, our Communications Specialist Habibe Cikilioglu, our Operations Manager Stephanie Wormsbecher, and I as Program Director.