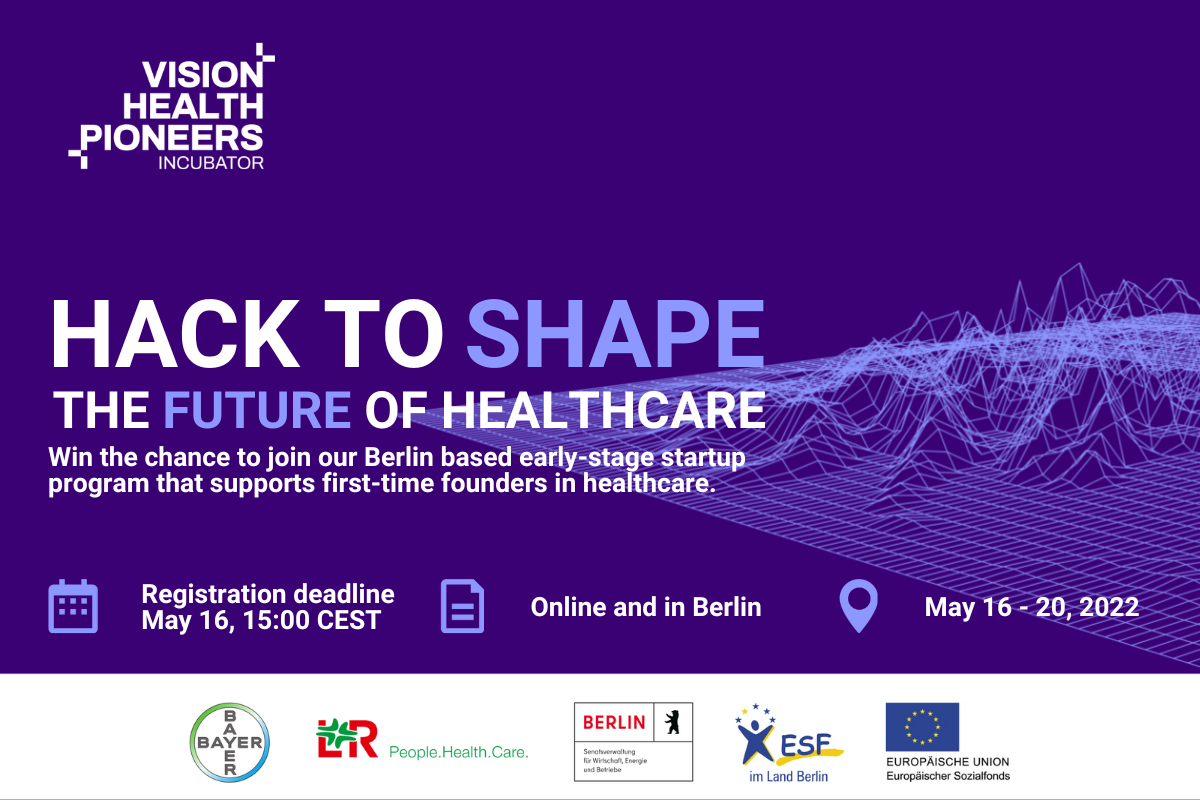 03 May

Hack to shape the future of healthcare
Hack to shape the future of healthcare!
Vision Health Pioneers Hackathon May 16 – May 20.
We are eager to welcome you to this route to joining Vision Health Pioneers Incubator's last cohort for 2022. This hackathon acts as your gateway into our 10-month startup program that supports first-time founders from Europe in launching their healthcare startups.
Register for the hackathon on TAIKAI
Teams that enter our Berlin-based startup program benefit from coaching sessions with experts in various disciplines, and mentoring from professionals who are leaders in their field of expertise, they will be introduced to our network and get access to our free co-working space at Unicorn Workspaces. We also support teams with equity-free, non-refundable scholarship funding of up to 20,000 euros per person. So your team, of up to 4 team members could win 80,000 euros in this hackathon! (Eligibility criteria applies).
During the hackathon we are holding workshops with some of our proven experts – so use the week-long hackathon to gain further knowledge and apply it to your startup. We also provide access to some of our great ecosystem of mentors who are there to support you in various areas. Dedicated expert mentors will also evaluate your team during the week. On the last day, Friday May 20 we are holding a Pitch Day, live from the virtual stage, so use this opportunity to wow the judges and make an impact.
Hack to shape the future of healthcare
The hackathon is open to those with pre-existing teams, teams who would like to find additional teammates (up to 4 per team) and individual entrepreneurs who are on the lookout to join a team that needs their skill sets and experience.
Startups that already applied via the F6S page for Vision Health Pioneers Incubator can and are encouraged to join.
At the end of the hackathon,  you can decide if you are ready to take the leap and start your own venture!
Join 'Find our perfect match' on Wednesday May 11, 2022 to find your teammates
If you are at the idea stage or have incorporated your idea, do not hesitate to pitch your project to your fellow hackathon participants, form a team and tackle the hackathon together. Please note if you have already incorporated your idea, certain eligibility criteria apply.
Join us online or in Berlin
For the last 48 hours of the hackathon, you are welcome to join us in Berlin at one of our coworking spaces. Every team that enters benefits from their own private project space in TaiKai (no one else will be able to access it) and in here you can exchange messages with fellow hackers, mentors and our Vision Health Pioneers Incubator team. We also have dedicated Slack channels to provide you with quick communications and updates.
Key links: